NEWS
Rainn Wilson Slams "World of TV" for Steve Carell Emmy Snub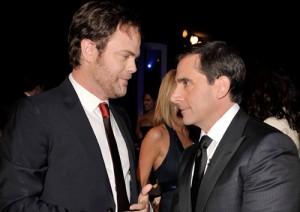 Rainn Wilson isn't happy that Steve Carell didn't go home with an Emmy last night. The star of The Office turned to his twitter after the 63rd Annual Primetime Emmy Awards on Sunday to share his thoughts.
Rainn Tweeted the following message after the show:
Steve left The Office at the end of this past season to focus on other career opportunities (mainly in film).
Article continues below advertisement
He was a six-time Emmy nominee for playing boss Michael Scott on the hit comedy.
Steve himself talked about the possibility of an Emmy win with MTV on the red carpet before the show.
"It would be a culmination of all my hopes and dreams," he shared. "It would be great, but I'm putting my expectations on the fairly low side and just trying to enjoy it and see my friends. I haven't seen my friends from The Office in a while, so that's going to be fun."
Jim Parsons of The Big Bang Theory won the best actor prize for the second year in a row.
Do you agree with Rainn? Was Steve snubbed? Sound off below!