NEWS
Raising the Bar scoop!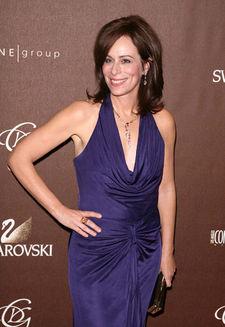 Jane Kaczmarek starts filming the second season of the TNT drama Raising the Bar in a few weeks, and you can bet her character, Judge Trudy Kessler, is gonna be reeling from the news that her young boy toy has come out.
"That's how the show ended last season," Jane tells me. "I was so enamored with him. I wish they had prolonged their affair just a little bit longer."
Still, Jane looks forward to working out Trudy's emotions. "It's one of the biggest challenges to deal with, just how would I feel if my lover told me this," she says. "It was the first time as an actress that I have ever been faced with that, so it's a really novel experience."
Article continues below advertisement
If Judge Trudy wants to slip on something sexy and get back into the dating game, she can start by visiting Clothes Off Our Back. Started by Jane and husband Bradley Whitford (of The West Wing fame), the nonprofit organization sells gently used celebrity ware to raise money for charity.
This year, Clothes Off Our Backs has paired with the Heart Truth Red Dress Collection 2009, an annual event reminding women of the need to protect their hearts. The site is currently featuring dresses for past runway shows to support women's heart health.
"Heart disease is really the number one killer of women, more than breast and other cancers, a lot of people don't know that," Jane says.
Several celebs will join forces under the tents in New York City's Bryant Park on Feb. 13 to help raise awareness for the disease.
"Katie Couric, Daisy Fuentes, Patricia Arquette, me," Jane declares, who adds it's her first time doing the Red Dress runway show.
"I hope I have a long dress so I can wear flats. I don't want to wipeout," Jane says.
"Seeing people fall is the funniest of things, as long as it doesn't happen to you," she laughs.
Here's to keeping on your feet Jane, literally!
Check out the Clothes Off Our Back Red Dress auction through Feb. 27.