NEWS
Rally to Restore Sanity Brings Out Ozzy Osbourne & More Music Legends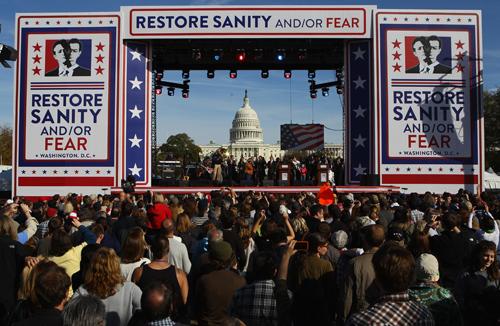 Amid the Halloween festivities this weekend, tens of thousands of people swarmed the National Mall in Washington D.C. to take part in the first every "Rally to Restore Sanity and/or Fear" led by A-List political satirists Stephen Colbert and John Stewart. Many did not know what to expect from the political gathering on Saturday, but we doubt anyone left disappointed, as the three-hour rally turned into a huge musical event with performances by Ozzy Osbourne, Sheryl Crow, Kid Rock and more — mixed in with hilarious comedy bits from celebrated hosts Stewart and Colbert.
Article continues below advertisement
The Roots served as the house band for the event, and John Legend performed with Mavis Staples.
According to MTV, Yusuf Islam (the artist formerly known as Cat Stevens) performed his hit"Peace Train," after which Stephen interjected he would not be getting on any sort of "peace train" but rather a "crazy train."
The crazy train led Ozzy to the stage to perform his hit.
One train both hosts could agree on was a a "Love Train" so luckily the 1960s band The O'Jays was on hand to sing their classic "Love Train" for a hilarious, and moving moment.