NEWS
Ralph Macchio Dishes About Fall on 'Dancing With the Stars'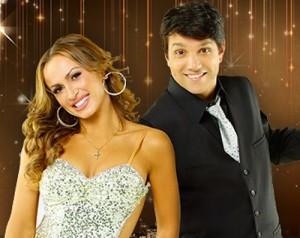 As Romeo and Chelsea Hightower snagged the first 10 of the season, two contestants on Dancing With the Stars were singing a different tune. Find out what Ralph Macchio and Karina Smirnoff dished about her fall!
OK! VIDEO: WATCH DANCING WITH THE STARS CONTESTANTS REMIX REBECCA BLACK'S FRIDAY
Karina tells OK!, "You know, gravity is a bitch." While she notes that Ralph picked her up in "nano seconds" she adds, "My butt, I was like, whoop I'm on the ground! I tripped and literally went down on the side of my leg."
Article continues below advertisement
Despite the unanticipated fall, Ralph makes light of it. "Did you watch? It was a great number. We did it all the way through, it's live theater!"
OK! EXCLUSIVE PHOTOS: DANCING WITH THE STARS BEHIND THE SCENES AT RESULT NIGHT!
In those seconds when she was down, she certainly wasn't out. Ralph tells reporters it's "a race track versus a railroad track." He adds, "There was one moment, and then she goes "every body over here, every body over there" and we knew that we had a step there. So at that point we just went….(makes a movement) and that was the time to go back. We did the whole thing and all the stuff, we were thrown, but what do you do?"