NEWS
Ralph Macchio's Parenting Milestone: 'Dad was Huge, and We Missed it!'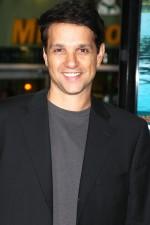 Ralph Macchio is surrounded with new moms Rebecca Romijn and Ana Ortiz on the set of Ugly Betty.
The Karate Kid star, now 47, is an old hand at parenting as the father of teenagers Julia and Daniel, whose mom is Phyllis, his wife of 22 years.
"One thing I told Ana is to be flexible," he tells me. "It's the toughest job in the world. Surround your kids with as much love as possible, create the environment for communication and conversation and be flexible. Also, be flexible when they're babies, and you have to sometimes be the strong arm with the tough love as they get older. The rule book? I'm still looking for it."
Article continues below advertisement
One thing they can expect is surreal reactions to fame.
"They'll look back and, if a movie's on television, they'll remind me of how much better I looked back then," he laughs. "One of my favorite moments was when my son found a whole bunch of newspaper clippings and magazines when he was 7, and didn't know I was in the business. He came up, and was like 'oh my God, dad was huge, and we missed it!' He really enjoyed the Ugly Betty run because he was the one who went with me when I auditioned for that, and I'm on for a second season now. He's like 'see? You should bring me along more often.'"
These days, daughter Julia is gearing up for college, majoring in dance, with an eye on performing arts and psychology. Son Daniel has the passion to be a pilot.
"I'm trying to persuade him to do that on the side, but he's 14 and he wants to be a pilot hands down," Ralph says. "He took his first flight lesson for his birthday. That's a gift we got him. I was just praying until he landed. As a parent, you don't necessarily want to tell your kids to be a pilot, but it's his passion – at least at this point. I say 'buy the building, own the company and have a jet on the side.'
Article continues below advertisement
He cherishes how his relationship has grown as his children have gotten older.
"My son and I are buddies – we really are," he says. "He's 14, so I'm still hanging onto that. We like going to ball games, we like taking trips together and things like that. We're looking at colleges with my daughter now. She is very close with my wife, which I am thrilled with. Mother-daughter closeness is very good, especially launching into those years."
But it's not always easy.
"It's roots and wings – that's my theory. You give your kids the roots and the foundation, and you have to give your kids wings – the ability to fly. It's tough to do that. You want to keep holding down to the roots. That's my dilemma."