NEWS
Ramiele Goes Malu-Bye-Bye!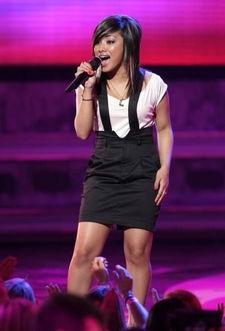 One month into the finals for the seventh season of American Idol, Ramiele Mulabay's ability to escape the chopping block finally ran out on Wednesday night, as she was the latest hopeful singer to be cut from the hit Fox show.
The petite 20-year-old, who had been no stranger to being in the bottom three, was eliminated from the contest on Wednesday night amidst a flood of tears. On Tuesday's performance show, sharp-tongued Idol judge Simon Cowell branded the Florida resident's rendition of Dolly Parton's "Do I Ever Cross Your Mind" as forgettable, and, it seemed, the American public agreed.
Article continues below advertisement
And the pint-sized cutie wasn't the only one breaking into tears on last night's live broadcast. OK! was in the audience to see finalist Brooke White, who made her first trip to the purgatory of the bottom three this week, weeping openly after learning she was not necessarily moving on to the next round.
During a commercial break, Brooke, who only recently seemed like a lock to make the top five, hugged her fellow bottom dwellers Ramiele and Kristy Lee Cook. And after this week's guest mentor Dolly Parton performed for the audience, Brooke broke down once again, prompting producer Nigel Lythgoe to share a few encouraging words with her while fellow contestants Carly Smithson and David Archuleta embraced her.
So what do you think? Was it Ramiele's turn to go home? Or did America make a big mistake about Idol's littlest contestant?