NEWS
Ramona Singer Beats Abusive Past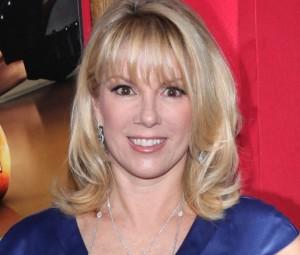 Just because Real Housewives of NYC star Ramona Singer has a booming business and hit reality show doesn't mean she grew up privileged.
Although the Hamptons native, 54, is now married to hubby Mario and mom to daughter Avery, 16, she is haunted by memories of a rough upbringing.
"I'm a self-made woman," she tells me. "I was a victim of abuse. I saw my mother get the s*** beat out of her. I'd have to call the police. My father had a drinking problem, and I was on my own since 16. I put myself through college."
Article continues below advertisement
Her mom urged her to make different choices than she did.
"My mother said 'don't end up like me.' I'd go 'Mommy, why don't you leave Daddy?' She said 'honey, I don't have a college education, I never got a career, I have four kids. Please don't make the same mistake. Have a career, and whoever you marry, make sure you're always making your own money, because that will give you strength - God forbid something goes wrong - and they'll respect you more.'"
She adds, "My mother always said 'make sure whatever you do in your career, love what you do. I'll scrub toilets for you if I have to, because I want you to tell me what you want and make sure you love it.' I've always loved business, and I've always loved fashion. I started in clothing, and went on to jewelry and skincare. I love Pinot Grigio, so I did Pinot Grigio. Do what you love!"
When she was a young adult, her past influenced her ability to commit.
Article continues below advertisement
"I would go from relationship to relationship, but I was scared to get married. I never had a problem meeting men and dating men and having relationships, but I was scared to death to get married."
Ramona immediately knew her husband was right for her.
"The number one thing in any relationship is trust, and when we were dating, I knew I could trust him completely, and my husband - imagine him 15-20 years ago. He's handsome now, but he was drop-dead gorgeous, and women would swarm all over him. I knew I could trust him every step of the way. We had great communication with each other, and we thought alike. We thought alike, and we got along. I enjoy his company, and he respects me as a businesswoman. He treats me as his equal."
She has heeded her mother's advice, and one way she believes women can prevent abuse is by remaining in the workforce.
"I think it makes a healthier marriage when a woman has a career," she says. "Listen, in so many businesses, you can be a stay-at-home mom, but work from the home with the Internet. So many businesses can be done from home via, fax Internet, telephone."
Still, she doesn't let her desire to be a career woman get in the way of her mothering time.
Article continues below advertisement
"When you have a child, that's one of the reasons I ran my own business. I didn't want to go to an office where I had to be in there, because I used to be in the office at 8 in the morning and stay until 7 at night. You can't do that when you have kids! It's difficult. Some women have to, but that's why I went to my own business, so I had a choice. I could go in at noon or leave at 3. To have that flexibility – I would take off every Friday or Monday, and work from home with her. You have to do what's right for you, but I think it's good when you have your own career because it gives you a sense of self-worth."
Lucky Avery has a great role model.
"I'm giving my daughter the same inspiration that my mother gave me," she says. "I want my daughter to be a self-made woman and follow her passion."
Catch Ramona and all of her "Ramotional" antics on the Real Housewives of NYC season finale, which airs tonight at 10/9C.