NEWS
Randy Jackson Predicts 'Idol' Winner; Calls Jennifer Lopez's Singing Ability "7 Out of 10"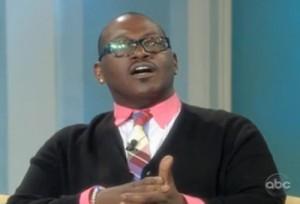 Randy Jackson chatted with the ladies of The View today, and of course they wanted to know his predictions on who would win American Idol. However, Randy didn't want to offer too much insight.
"I think it's going to either be a boy or a girl," he quipped about the three remaining contestants, Lauren Alaina, Scotty McCreery and Haley Reinhart.
Article continues below advertisement
In a shocking elimination last week, James Durbin was the last singer voted off the show, to the surprise and dismay of Randy and his fellow judges, Jennifer Lopez and Steven Tyler.
"We've had such a diverse season and I think the coolest season ever, and him being this metal kind of rocker kid, we thought maybe he could go all the way," he said. "But you know, you never know. America, what's going on?"
Randy also commented that he would give J.Lo a "7 out of 10" for singing ability, which he thought was a nice compliment, as "10s" are saved for legends like would Frank Sinatra, Whitney Houston and Mariah Carey.
Watch the clip, via TV Squad, below!