NEWS
Randy Quaid Claims "Star Whackers" are Trying to Kill Him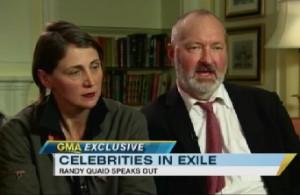 Randy Quaid and his wife Evi Quaid spoke out on Good Morning America today from Vancouver, Canada where they were arrested and are seeking political asylum. The couple says they believe "star whackers" are trying to kill them for their money.
OK! NEWS: RANDY & EVI QUAID THROWN IN JAIL
Randy and Evi deny being mentally unstable or on drugs and say "star whackers" are to blame. "They follow us, they tail us," he told Good Morning America (via The Hollywood Reporter). "They tag our cell phone they hack our computer."
Article continues below advertisement
"We are refugees … we are Hollywood refugees," Evi added. "I feel like Uma Thurman buried in a coffin… I genuinely feel these people are trying to kill us."
So who are the "star whackers" trying to take their money?
"An estate planner who would make a living trust and a county that could cash Randy's royalty stream forever," Evi said. "They are business men. It's the mafia, it's organized crime."
"It's possible for people gain control of every facet of your life… our very existence is being challenged and we feel very alive," Randy explained.
OK! NEWS: RANDY QUAID & WIFE POST BAIL AND PAY DEBTS
Randy said he does still have a relationship with his brother Dennis Quaid, but also believes he the "star whackers" are after him too.
"It's been a little tense the past few years but I love my brother very much. We're worried about him," he said of Dennis. "He's being victimized by the same people."
"Dennis is now on a treadmill of making movies that are garbage and it's unfortunate because he's talented," Evi added.
And the Quaids also think Lindsay Lohan, Britney Spears and Mel Gibson are in danger of being killed. Evi said of Mel's recent alleged audio tapes, "I think he was drugged. I think he was slipped a Mickey."
Randy and Evi are expected in court on Tuesday in California, but they didn't say whether or not they would go.
"We're just trying to find some safety and security in this," Randy said.
Watch the interview below!