NEWS
Rap Legend Heavy D Dead at 44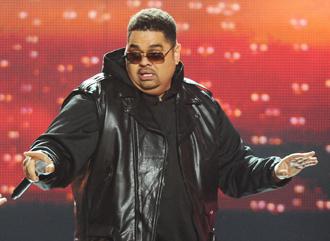 The rap world has lost one of its legends. Heavy D, one of the most dominant rappers of the '90s, has passed away at the age of 44.
According to a recent news report, Heavy D was rushed to a hospital this afternoon after a 911 call was made from his Beverly Hills home.
The rapper launched to superstardom with his 1991 hit "Now That We Found Love" and has also appeared in a number of movies.
Heavy D had been active on his Twitter account this week.
Article continues below advertisement
His last Tweet, published 16 hours ago, read "BE INSPIRED!"
He also posted a message Monday about boxer Joe Frazier, who died yesterday from liver cancer at the age of 67.
"SMOKIN JOE FRAZIER..RIP.. truly one of the best heavyweight champs that ever lived.. GODS SPEED,MR FRAZIER!" he Tweeted.
Heavy D performed October 8 in Wales during the Michael Jackson tribute concert. He sang "Jam" with Latoya Jackson.
On October 1, he also performed at the 2011 BET Awards with Tyrese.
Watch the BET Awards performance, via YouTube, below.