NEWS
Raunchy Timberlake Song Wins Emmy!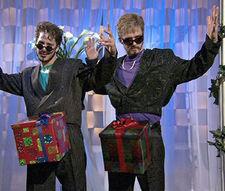 A full day before he's expected to come up as the big winner at the MTV Video Music Awards, Justin Timberlake has already started raking in the awards, as the pop star's infamous "Di*k in a Box" sketch from Saturday Night Live, in which he and SNL cast-member Andy Samberg sing a ribald song about wrapping up their genitals as gifts, was honored Saturday with an Emmy for best original song and lyrics.
Article continues below advertisement
''I think it's safe to say that when we first set out to make this song, we were all thinking 'Emmy!''' Joked Samberg when he accepted the speech at the Emmy's Creative Arts ceremony, a precursor to the main event on Sept. 16. ''The other thing we were thinking was, `Hey! Here's this young up and comer, Justin Timberlake, who is clearly very talented and could clearly use a break.'''
The Creative Arts Emmys recognize technical and other creative achievements for shows airing during the 2006-07 TV season. The now-legendary SNL sketch aired in December, 2006, right before Timberlake split from long-time girlfriend Cameron Diaz.
MORE ON:
Saturday Night Live
Perhaps she didn't like what he put under her Christmas tree?