NEWS
Ready, Set, Reddit: Tuesday, June 18!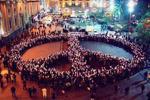 Russell Brand Gets Super Awkward on Morning Joe /videos
DIY Mozzarella Sticks /foodhacks
Thanks, now I won't be able to sleep tonight /WTF
Mitch Hurwitz, creator of Arrested Development did an AMA—Never Nudes, rejoice! /iAmA
This fortune cookie says it all /aww
The cutest bugs you'll ever see /aww
Cause when you're friends with John Goodman's daughter on Facebook... /pics
What peace looks like /pics
Coffee Mugs Can Be Funny Too! /funny
"Welcome to our home, here's a crayon" /pics
These Kittens think the dog is their mother /aww
The coolest kid's room ever /pics
Sesame Street Just Got A Lot More Street Cred /news
Look carefully /funny
Share your favorite in the comments, or tweet us @OKMagazine.
Article continues below advertisement