NEWS
'The Real Housewives of Beverly Hills' Reunion Recap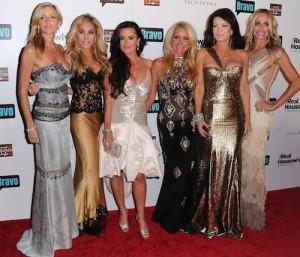 Plastic surgery, houses and more plastic surgery. Last night on part one of The Real Housewives of Beverly Hills reunion, host Andy Cohen didn't hold back with questions ranging from that initial off-camera spat between Kyle Richards and Camille Grammer, the cost of a gallon of milk, the square footage of Lisa Vanderpump's house and Taylor Armstrong's lip implant! It was certainly a reunion we won't soon forget.
Article continues below advertisement
OK! NEWS: WILL THE REAL HOUSEWIVES OF BEVERLY HILLS REUNION RESOLVE ANYTHING?
Although there are questions still left unanswered as Taylor advised Kim Richards to "tread softly," one thing's clear: Taylor came to Camille's defense after Andy mentioned a list of adjectives that have been used to describe Camille — "fake conniving, insecure, manipulative, insincere, delusional." Taylor jumped in and explained, "These people can sit behind their computers and write negative words about people who seem to live perfect lives but they don't know her. I just think it's cowardly."
OK! NEWS: KIM RICHARDS REHAB — SISTER KYLE RICHARDS BLOGS REAL HOUSEWIVES FINALE EXPLANATION
Camille seemed to be a focal point of the reunion show, as with this past season. She and Kyle went head to head over what really spawned the season-long fury it was apparent that Kyle actually called Camille last year to invite her to join the cast. Although Camille suggested that Kyle set her up, in her defense she questioned why she would have invited her on the first place to only sabotage her.
Although it must have been a doozy sitting in Andy's hot seat, the second part will air next Tuesday at 10 pm. He tweeted, "Hope you guys liked part 1 of the reunion. Part 2 (Tues) is a WHOPPER. Reruns now."
Did you watch last night? What did you think?