NEWS
Real Housewives' Brandi Glanville Rings in the New Year With a Marriage! Will She Get It Annulled?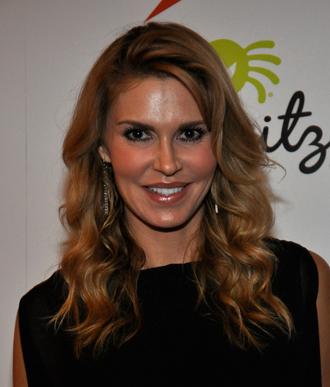 If Brandi Glanville's New Year's resolutions included getting married and getting an annulment, she's off to a rockin' start.
"Yes.... I'm an official housewife, for reals... again," Brandi Tweeted after tying the knot with MMA manager and "BFF" Darin Harvey in the early morning hours of New Year's Day.
Today, the Real Housewives of Beverly Hills star admitted that the wedding was a drunken mistake and told E! News, "He is just a BFF — we will annul it."
Article continues below advertisement
Her soon-to-be ex-husband echoed the sentiments, Tweeting, "Don't worry @BrandiGlanville and I had a crazy Vegas moment. Getting annulled tomorrow."
It doesn't seem like the two had much time to try life as husband and wife — Brandi was updating her 47,000-some Twitter followers frequently, from the moment the ceremony happened.
"Having dinner with my husband! I yi yi! What did we do @darinharvey" she wrote.
OK! NEWS: BRANDI GLANVILLE CRIES TO KYLE RICHARDS ON 'REAL HOUSEWIVES': "IT'S NOT ALL MY FAULT"
About an hour later, she Tweeted again, saying, "Yes, I'm married get over it!" We guess Brandi took her own advice.
Brandi has been somewhat of a sympathetic personality on RHOBH this season, despite a rocky start. Her highly publicized split from ex-husband Eddie Cibrian (who left her for LeAnn Rimes after eight years of marriage), helped unite her with fellow housewife Camille Grammer, who split from Kelsey Grammer in a similar fashion last season.
Article continues below advertisement
OK! NEWS: BRANDI GLANVILLE MAKES HER 'REAL HOUSEWIVES OF BEVERLY HILLS' DEBUT AND BASHES EDDIE CIBRIAN
So, we're a little surprised that Brandi entered into another marriage lightly.
"Um he is my best friend but after some beer and strippers he is now my husband! No joke!" Brandi Tweeted before announcing that she was getting an annulment.
Most people think that marriage is no joke, but okay.
Brandi is obviously getting a lot of feedback from fans Tweeting this afternoon, "I didnt mean to offend anyone! I beleive everyone shud be able to get married & maybe even embarass themselves in Vegas."
Do you think Brandi should take marriage more seriously?