NEWS
'Real Housewives' Give Rich Husband Tips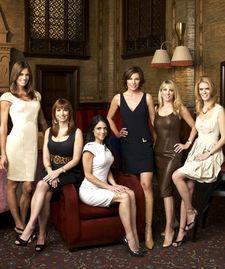 Finding a man is easy, but finding a rich man takes serious calculating.
Luckily, the Real Housewives of New York City are happy to offer real tips on how to land a man with a fat bank account.
"If you want to find a rich husband, go sit in a private airplane terminal," Jill Zarin tells me. "Anyone coming off a private airplane is probably doing all right."
She adds, "The Waldorf-Astoria shoots a Fox News show at 5:00 every day, at the Bull and Bear. All these really successful financial experts come in and it's a live show. So, if you're in the area of the Waldorf, go to the bar there between 5 and 6, and you never know who you might meet."
Article continues below advertisement
While Jill gives real advice, Ramona Singer cautions "you can't marry for love" if your primary goal is to marry rich.
She says, "You don't land a rich husband. You find somebody you really love and adore, and if you support him, he'll become rich."
Real Housewives of New York City airs tonight at 10pm on Bravo.