NEWS
'Real Housewives of New Jersey' Clip: Gia Sings a Sad Song for Teresa Giudice & Joe Gorga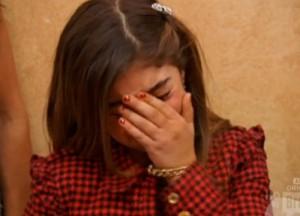 It looks like the ongoing feud between Teresa Guidice and her brother Joe Gorga has taken a toll on Teresa's daughters. The battle between the siblings certainly brings ratings and ups the drama on the hit Bravo reality show, but Teresa's daughter Gia has been through enough.
On last night's episode, the family was at Milania's 5th birthday. Teresa hosted a pizza party at Joe's restaurant for the kids to make their own pizzas and the event was very civil.
Article continues below advertisement
Teresa's oldest daughter Gia, sang a song for her sister and then another ditty for her Mom and Uncle Joe. But the poor little girl breaks down in tears before she starts the woeful tune, asking them to stop fighting and just love one another.
Gia sang through her tears the following lyrics: "It is just too much. Waking up in the morning. Going to school worrying and worrying. It is just too much."
So did Teresa get the message? It didn't seem so, as it turned into an argument between her and Joe about where Gia got her "thoughtful" genes from.
Caroline Manzo hoped the brother/sister duo heard the message.
"Maybe the children will teach them how to act like adults," she said.
Catch the clip below. Do you think the fighting will stop? Sound off in the comments.