NEWS
'Real Housewives of New Jersey' Premiere: Re-Watch Teresa Giudice & Her Family Brawl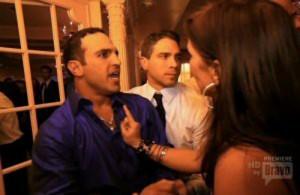 Season three of The Real Housewives of New Jersey started off with some serious family drama. The series introduced Melissa Gorga — the sister-in-law of Teresa Giudice, which also meant the addition of Teresa's hot-tempered brother, Joe.
Teresa and Melissa certainly don't get along and a competitiveness between the two is very clear. Teresa and Melissa's strained relationship also affects her relationship with her brother Joe.
Article continues below advertisement
With resentment running high, the Christening of Melissa and Joe's son — which aired on last night's feud — turned out to be a full-on family brawl.
When Teresa walks over to congratulate her brother, Joe aggressively fires back, "Do what you do everyday. Just walk the f*** away."
Later, he calls her "garbage."
Then Teresa's husband Joe Giudice, reaches his breaking point and lunges toward his brother-in-law Joe.
An expletive-fueled brawl then follows.
Teresa's cousin and newcomer to the N.J. Housewife arena, Kathy Wakile, opened up about the brawl at the christening in her blog on Bravo.com.
"If I wasn't present I would have had an extremely hard time believing that this actually happened. How could such a beautiful, sacred day lead to the disaster you all saw unfold before your eyes," she wrote. "Yes, it was real, raw, and completely unexpected. You can't make this stuff up. As I watched and saw more than I had seen that evening, my heart broke and I cannot control the endless amount of tears that keep flowing. The hardest part for me was seeing my Uncle Giacinto's devastating expression and hearing the excruciating pain in Joey's voice. Family is everything to me. You can't change things that have happened, but you can move forward. Let's all hope for the best."