NEWS
'Real Housewives of New York' Reunion: Watch Ramona Singer & LuAnn DeLesseps Go At It!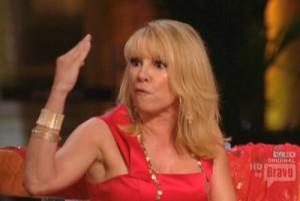 The ladies of the Real Housewives of New York City were certainly cutthroat last night. Shrill yells invaded the reunion special and host Andy Cohen couldn't get a word in even if he tried. One of the most hot-headed feuds raged between LuAnn de Lesseps and Ramona Singer over parenting.
Andy Cohen asked Ramona why she attacked LuAnn's parenting in one of the stand-out moments in the season.
And then the yelling began, with Jill jumping in to defend LuAnn.
Article continues below advertisement
"Why has your daughter transferred schools four times in four years?" Ramona asked.
LuAnn's response: "What does that have to do with our relationship?"
"And why did your daughter leave your school?" Jill chimed in, asking Ramona.
Ramon explained she had a "system" with her 16-year-old daughter Avery, and continued to press LuAnn about her parenting.
Ramona always maintains she is "home a lot," but her daughter called her out on it this season, saying most of the time she has to call her parents to find out where they are.
In the end, Jill said she was disgusted that the children were being brought into this drama.
"I'm not talking about the children," she said, leaving the set for a break.