NEWS
'Real Housewives of NYC' Recap: Sonja In The City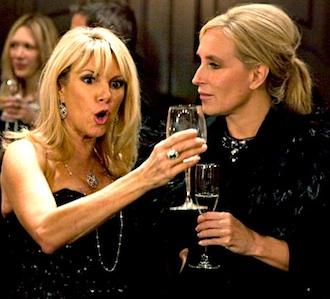 Last night's episode of The Real Housewives of New York City was all about setting up alliances and planting seeds for future battles and wars — here's looking at you, Ramona!
The three new housewives — Carole, Aviva and Heather — seem to genuinely like each other, much to Andy Cohen's dismay. We know, we know — it's nuts! Up is down, black is white, night is day. These three (with Sonja) brunch, drink, giggle about Harry Dubin, drink some more, slyly bring up Harry again, and plan fancy trips to London together. Well, except for Ramona. Ramona wasn't invited to London. Nobody likes Ramona.
Article continues below advertisement
OK! NEWS: REAL HOUSEWIVES OF NEW YORK RECAP — OH, RAMONA!
That being said, the layers are slowly peeling from these newbies, and in their place we're beginning to see flickers of the quirks and eccentricities we've learned to love from our Bravo ladies.
Aviva, our willowy, plastic-legged blonde, is riddled with phobias. She's afraid of heights, the underground (Aviva can't ride subways), flying and doesn't allow her husband to wear a wedding ring because "that makes men more attractive to single women."
She also can't seem to decide on names for her children. She renamed her son at 4 months and wants to rename her 1-year-old daughter. She also told the camera she got a law degree so she could be a stay-at-home mother and she has no intention of ever changing.
Speaking of children, 47-year-old LuAnn practiced her stand-up routine last night when she told teenage daughter Victoria she was trying for another baby with her boyfriend, Jacques.
Article continues below advertisement
Victoria looked at her, stone-faced, and simply said: "You might be over the part of having children. I'd say go to the doctor and see if there are any risks."
The best thing about the Housewives is how their teenage children often make more sense than they do.
Meanwhile, after spending five years drinking vodka, throwing parties and moping about her divorce, Sonja says it's time to get back to work! By throwing more parties, of course. Fantasy parties! Sonja wants to be CEO of "Sonja in the City," an event-planning service where she gets to mastermind the perfect event... and maybe even perform a little burlesque at each shindig.
"No, Sonja, you shouldn't perform at your own parties," said a stern-faced Ramona. "That isn't professional."
OK! NEWS: REAL HOUSEWIVES OF NYC PREVIEW — WHO ARE THE NEW LADIES?
In her quest to turn this dream business into reality, she's meeting with the group's two business heads, mortal enemies Ramona and Heather.
Ramona taught Sonja all about the wonders of opening a separate bank account and taking notes on a notepad as opposed to the margins of The New York Post, Sonja's former method. Heather, on the flipside, wanted to craft the perfect Sonja in the City logo. Oh, please let us witness a Sonja in the City event this season!
The episode concluded with the same tired fights between Lu and Ramona and Ramona and Heather. I sincerely hope there's more ammunition thrown into the fire with these squabbles. There's really only so much airtime you can waste on a mythic war about Hamptons bullying or a perceived slight over one person cutting off the other at a dinner party.
We'd much rather go behind the scenes and watch Sonja practice an interpretive cabaret for a few imaginary Sonja in the City parties.