NEWS
'The Real Housewives of New York City' Recap: Oh, Ramona!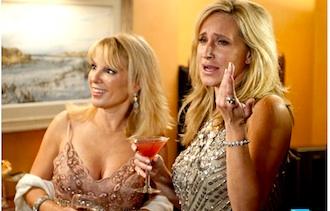 The Real Housewives of New York City returned last night with its usual clatter of high heels, clinking wine glasses and cat claws, and boy have we missed these bitter slices of the Big Apple.
OK! NEWS: REAL HOUSEWIVES OF NYC PREVIEW: WHO ARE THE NEW LADIES?
After a steady fall, winter and spring of Beverly Hills, Orange County blondes, Atlantan summer charm and brash New Jersey screeching, Bravo decided to mix things up a bit and give us the uppercrust, posh sophisticate of Manhattan for the summer, and yes, these ladies are eerily refined.
Article continues below advertisement
Let's just say the three new additions to the cast, Aviva Drescher, Heather Thomson and Carole Radziwill, are less Brooklyn and more Hamptons. Meanwhile, mainstays Ramona Singer is as batty and Pinot Grigio soaked as always. Sonja Morgan (ex of banker scion John Morgan) has already found time to namedrop Elton John and the Kennedys and Countess LuAnn is still entangled with her French boyfriend, Jacques. There's an old feud between LuAnn and Ramona that hasn't been resolved, something about Ramona calling Lu a "weekend Mom" thus criticizing her parenting, which has left the Countess with a bitter taste in her mouth. There's a rumor Ramona blackmailed LuAnn, but the story was too rushed to really give it much attention. Clearly the producers planting seeds for future episodes. We're going to see a lot more between these two women.
So let's start with Aviva, the rail-thin icy blonde who's already feeling a little awkward because her ex-husband, party boy Harry Dubin, has boinked not one but two, of the current housewives. Sonja Morgan and Countess LuAnn each smile wryly at the mention of Harry, with LuAnn even admitting the two "got drinks" which we all know means more than just sipping on cocktails. Aviva looks suitably uncomfortable whenever these conversations occur. These days, however, she's a full-time housewife with four kids and an investment banker husband (oh so New York City) but she comes with a unique feature — a fake leg! The victim of a childhoood accident, Aviva is five-foot-ten inches of prosthetic leggy charm and spooks out co-star Sonja when the two go for pedicures and whips out a few fake legs (the summer tan one and the winter pale one, naturally) to get the fake toes painted. It's all so campy and wonderful, and Sonja's reaction is priceless. She seems calm, if not a bit uppity, but there's unfinished business here concerning her divorce from Harry (which she says "has a few crinkles) and his involvment with these gals.
MORE ON:
Real Housewives of NYC
Article continues below advertisement
Carole Radziwill almost looks like Aviva's brunette sister, they're both gangly and fashion model lithe with chiseled features and the kind of long hair that absolutely takes pricey product to look so artfully mussed. Carole is actually a pretty accomplished journalist, who's published a New York Times best-selling memoir about her late husband's cancer and won several awards for her work with 20/20 and Peter Jennings' Documentary Unit. Alas, the show pans to a scene where she meets with Glamour magazine and is assigned a feature to interview the Kardashians. While she feigns interest with Editor-in-Chief Cindi Leive, she tells the camera had she known back when she was producing fancy, high brow installments for Peter Jennings that she'd be writing fluffly Kardashian features for a glossy she would have "laughed." Careful, Carole! Anyway, she's a widow who's on the prowl and the show will feature her canoodlings with New York City's eligible bachelors. She also doesn't have any children and is already tiring of the other ladies incessant chatter about their kids.
OK! NEWS: REAL HOUSEWIVES OF NEW YORK FIRINGS — BRAVO SAYS "NO DECISIONS HAVE BEEN MADE
Heather Thomson is a talkative, smiley type who was once a head designer for Sean "Diddy" Combs and Beyoncé's House of Dereon. Now she's CEO of her own line of underclothes called Yummie by Heather Thomson. Heather and Ramona really should be kindred spirits seeing as they both are into fashion and have business sense, but the two ladies clash horribly. Both women accuse one another of not listening, cutting each other off and Heather snipes to the camera that Ramona's a one-upper. Our Housewife crystal ball predicts many, many fights between these two. One thing about Heather: while she's unassuming on the surface, she's got an acidic tongue behind closed doors, which won't earn her many friends on the series. She also has a tendency to bring up touchy topics at the wrong time, so she's a wonderful loose cannon to add to the mix.
The one main storyline that doesn't ever seem to change? Ramona Singer is forever Public Enemy No. 1. The woman just can't help but make enemies where she goes.