NEWS
Boca Bombshell! Jim Marchese Accuses Bobby Ciasulli Of Cheating On Nicole Napolitano On 'RHONJ'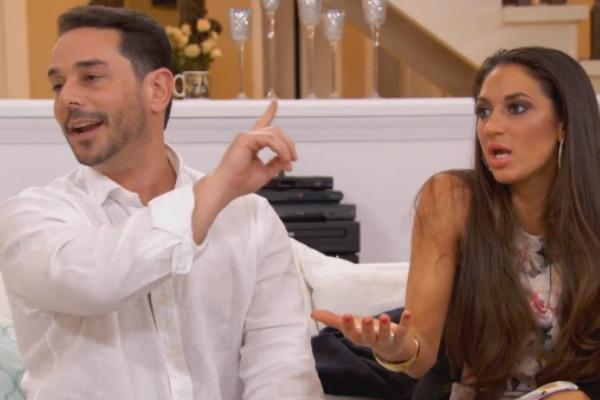 So much for a relaxing, drama-free getaway to Boca Raton, Florida...
On last night's episode of The Real Housewives of New Jersey, Amber Marchese's husband Jim started a booze-filled fight with his former best friend, Bobby Ciasulli.
"If you love a woman and you respect her, you man up and you do what's right," Jim began. "When I met my wife I told her within a month, I love her, we're getting married. You make the decision and you do it. That's what a man does."
Article continues below advertisement
An infuriated Bobby, who took the comment as a dig because he hadn't proposed to Nicole Napolitano after a year of dating, stormed out of the room.
PHOTOS: 12 Former Real Housewives We Wish Would Come Back
But that – of course—didn't stop Jim from continuing to hit below the belt.
"Bobby needs to grow up," Jim said to Nicole. "If he wants to be with you and he truly loves you, then he's got to make the commitment. This is bullsh*t."
When Nicole defended her boyfriend, Jim told her, "I know what he's told me about you for a year… I'm not going to talk about what Bobby said about your family and what he told me about you guys."
Nicole fired back, "I do not believe that Bobby will say anything about my family. It's not fair that he's not here to defend himself."
PHOTOS: Reality Weddings: 14 Stars Who Got Married On TV
As Nicole ran upstairs to find her boyfriend, her sister, Teresa Aprea, stepped in to defend her family. That's when Jim dropped the biggest bombshell of the season.
"You know when I'm going to laugh…? When she finds out that he's been f**king some girl in the condo that he's been keeping the whole time he's been dating her sister," Jim revealed.
Do you think Jim is telling the truth? Find out what Bobby has to say on next week's episode of The Real Housewives Of New Jersey.