NEWS
'Real Housewives' Star Tells Brandi Glanville to "Be Careful"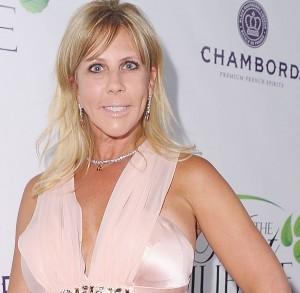 Real Housewives of Orange County star Vicki Gunvalson has strong words for Brandi Glanville, the ex-wife of LeAnn Rimes' husband Eddie Cibrian, who is joining the Real Housewives of Beverly Hills.
"Be careful," she tells me at the Mint Jubilee Celebration surrounding the Kentucky Derby. "It's not all glamour. You're going to shed some real tears. You're going to see people hurt you that you never thought could hurt you before. I think she's in for a rude awakening. It's not all fun at times, but the experiences have been that of a lifetime. I wouldn't change it for the world. It's been great."
Article continues below advertisement
Hm, what does he think of her Beverly Hills counterparts?
"I met all the Real Housewives of Beverly Hills, and they were lovely ladies," she says. "It's interesting that they would throw another franchise in the same one-hour distance from us, but we're very different in regards to lifestyle and money. I mean, I wish I had their money. I don't. We're more of the middle-class of California, whereas they're absolutely the upper class. I think that the viewers like California, they like the lifestyle, they like the color scheme, and both of our shows are being a hit because of that."
MORE ON:
Red Carpet Confidential
Vicki, who debuted on the show in 2007, confesses that her portion of the reality show is as real as it gets.
"I just know my story's all true. I don't know what the other girls are doing. This is a reality TV show, and I feel like a lot of it is being lost in this pre-thinking about what we're going to film. I don't do that; my life is my life. When I cry, I cry real tears. When I laugh, I'm woo-hooing. I don't know what the other women are up to; I stay focused on myself, my career, my family, and I try to do the right thing."
What misconceptions could she clear up about herself?
"I think people love me or hate me," she says. "There's no middle of the road. I'm lucky today at the Oaks, I had so many people come up and cry and say I've given them inspiration as a woman, and taught them good work ethic. They complimented me on being a good mother. If there's anything negative, I don't hear it. I try to stay away from the blogs and the bad things. I think the bad would be that I'm insensitive and I'm too hard, but I'm not. I'm compassionate and caring about other people. I give back to our community, and I love my work and my family. If that's what makes me a bad person, then so be it."