NEWS
The Real Life of the Ritchies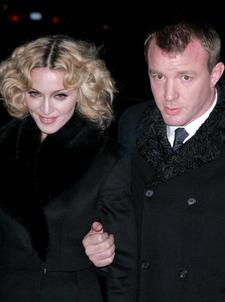 Despite just being inducted into the Rock and Roll Hall of Fame and her gazillionth new album, Hard Candy about to drop, Madonna insists that life inside her sprawling English manor is really a very quiet one.
"We have chickens and build tree forts there," the Michigan native, 49, says of Ashcombe House, the English countryside estate she shares with her hubby of eight years, Guy Ritchie, 39, and their three children, Lourdes,11, Rocco, 7, and David,2.
Article continues below advertisement
The Material Girl tells OK! that she drags herself out of bed every morning at 7:15 a.m. and has breakfast with her kids before sending them off to school. A strict disciplinarian, Madonna says it's strong-willed Lola who most reminds the singer of herself.
"Lola rules the roost," the singer says. "She is extremely maternal toward David but is in major competition with Rocco. But he's starting to fight back."
Of not allowing her kids to watch TV or read magazines, Madonna says, "You have to show them who's in charge. If you give in to them, they're going to run your life."
The singer tells OK! a typical day for her includes regular Pilates and dance aerobics, shooting, fishing and riding horses. "I love horses," she says. "I think I may have been one of Henry VIII's knights in another life, riding through a great forest."
Article continues below advertisement
At the end of the day, Madge sits down to a dinner of "fish, some kind of grains, some kind of cooked vegetable and salad." An admitted control freak, the singer reveals she and Guy are addicted to their blackberries, even sleeping with them under their pillows!
"We lie right next to each other with our blackberries under our pillows," she laughs. "I often wake up in the middle of the night and remember that I've forgotten something so I jump up and make notes. Guy's always waiting for me to come to bed, so he plays Brick Breaker on his blackberry until I'm ready!"
When asked if she has any advice for people wishing to know her secrets, Madonna tells OK!, "If you want to know how I look like I do, it's diet and exercise and constantly being careful," she says. "There is no shortcut to being Madonna!"