NEWS
Reality Weekly: Pawn Stars' Biggest Find Yet! Plus: Kourtney Kardashian's Mental Illness Shocker!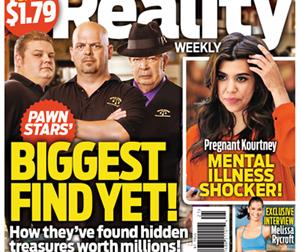 When it comes to reality TV, there's only one place you can get all the breaking news and juicy details you crave: Reality Weekly magazine!
In this week's issue: Get all the details on Pawn Stars' million-dollar find and learn how you can get rich from other people's trash.
Plus, insiders reveal the shocking condition Kourtney Kardashian's been dealing with for most of her life.
Also this week, hot mom Melissa Rycroft exclusively tells RW how she stays in such amazing shape, post-baby.
Article continues below advertisement
Seriously, where else are you going to get this much news for just $1.79?