NEWS
Reality Weekly, TV's #1 new magazine! Explosive Confessions from 'Teen Mom' to Simon Cowell!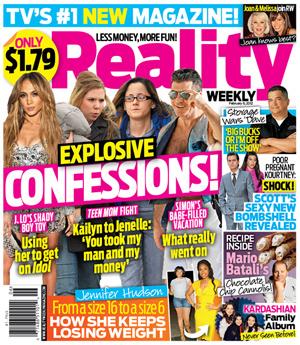 When it comes to reality TV, there's only one place you can get all the details you crave: Reality Weekly magazine!
In this week's issue: Explosive Confessions! Teen Mom Kailyn reveals to friends how Jenelle stole her man and her money. Simon Cowell tells RW what really went on on his babe-filled vacation. Plus, never-before-seen pics from the Kardashian's family album, Mario Batali's chocolate chip cannoli recipe, and we'll examine whether J.Lo's boy toy is just using her to get on TV!
Article continues below advertisement
Seriously, where else are you going to have this much fun for just $1.79?