NEWS
Reba McEntire Fit and Fab at 55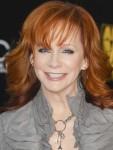 After Reba McEntire hosts the ACM Awards for the 12th year in a row tonight from Las Vegas, the country legend will likely indulge in Sin City's finest dining.
It's a well-deserved break from a diet and exercise regimen she typically maintains.   
The married mom, 55, credits her figure to 30-60 minutes of pilates and walking each day. When she's in Nashville, she uses her home gym to walk and lift weights.
Article continues below advertisement
Plus, she watches her diet.
"I have to watch what I eat. I splurge every once in awhile, but I do try to watch what I eat, stay away from complex carbs, and eat as much protein and vegetables as possible. Drink lots of water, of course I love my iced tea. I try hard. I fall off the wagon quite a bit, but I try."
What's her diet mantra?
"I read somewhere 'if you eat like a king in the morning, and a princess at lunch, and a pauper at dinner, you'll do very well,'" she tells me. "But if I stay away from anything that's white – whether it's sugar, flour, pasta, rice – those kinds of things, I do better on my dieting. And eat a lot of vegetables, fish and chicken … beef occasionally … I do a lot better on my dieting."
She adds, "I don't do fad diets, I don't do weight loss programs or anything like that. I just try to eat as healthy as possible. I do it more for my health instead of my vanity."
When she's looking to indulge, she goes for sweets, but almonds call her name when she's looking to be good.
"They're raw, they're good for you, they've got fiber and the oils. They're very healthy for you."
Her mouth waters when it comes to Mexican food – and her unlikely condiment.
Article continues below advertisement
"It's fattening and not good for me," Reba laughs. "I'm always having to watch my weight, so it's a guilty pleasure because I love it a lot.  I put lots of ketchup on i Mexican food. laughs Tacos, enchiladas, the whole kitten caboodle. I love ketchup."
Although dealing with the pressure to be thin keeps Reba's waist in line, she has never tried a cleanse.
"You do feel the pressure of everybody thinking 'well, you're in the music business, and you should be thin and you should have the perfect body. You make enough money that you should be able to afford to have that body,'" she admits. "The way I feel about it is 'God gave me this body, and I'm going to take care of it the best I can,' but if I let vanity come into it  too much, it becomes an obsession, and I don't think that's healthy at all in your mind or your body."
She adds, "I love my body, and I take good care of it. It's the one that's been issued to me. I feel like if I get too heavy, it's not good for my joints, my feet and my ankles. If I get too thin, it's not good for anything on me. I just try to take care of it. I think staying a good happy medium is a great balance."
As she's gotten older, she's seen a shift in her figure.
"Gravity takes over," she admits. "I just have to work harder to keep it in shape than I did ten years ago. When I was in my 30s, I could lay off bread and lose ten pounds in a week, but now it seems like it would take a year to lose ten pounds. Everything changes when you get older."