NEWS
Reba McEntire, Hubby Grow as They Go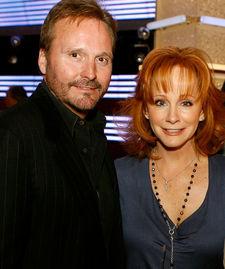 After celebrating her birthday on Friday, is kicking off her 52nd year with hubby Narvel Blackstock and son Shelby, 18, by her side.
"Narvel and I work as a great team not only as artist and manager but as husband and wife and best friend," she tells me. "We can argue, and we can communicate, and put business aside and take off and have a great vacation and fight when we come back. It's important to spend a lot of time as family."
Article continues below advertisement
What are her plans for the year ahead?
"I'm a firm believer that God will present the next situation, and you either take it or you don't," she says.
One thing she'll work on is her clothing line, called Reba.
"I appreciate clothing a lot more than I ever did before because I do all the work. My favorite item of all my clothing is jeans. I'm a jeans gal, and I took parts of every jean I had in my closet and what I liked best about each jean, whether it was how high the waist or the boot cut, how long, how it fit in the butt."
She yuks, "We grow as we go."