NEWS
Reba, Wynonna, Martina Do Divas NashVegas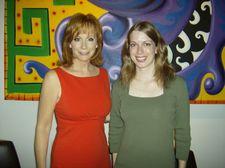 Divas NashVegas takes place in a tent outside the stately Parthenon in Nashville. Flashing rings are passed out upon entry to the benefit for the Oasis Center, which provides assistance to troubled youth. Divalicious!
The ground is muddy, but the gala tables are topped with feathers and flowers. As I wait in line at a buffet that includes chicken, grits, green beans, garlic mashed potatoes and rolls, I glimpse a black boa-wearing Martina McBride carrying her plate back to her table. Wow!
Article continues below advertisement
I am sitting at the CMT table, where I am told might not actually be up for an interview after the show and we'll need to reschedule. Oh Reebs! After a vat of banana pudding sails around, wacky hostess-with-the-mostess Melissa Peterman announces it's time for performances.
First up is gospel singer Yolanda Adams. "Live on purpose," she says. "There are a lot of people living from day-to-day -- just existing. Live those dreams. Go out and do it. Never give up. Live a life to leave a legacy."
Next, we have Wynonna, who acknowledges the failed romances she's endured after performing a cover of I Want To Know What Love Is. "Are you bitter or better for the journey?" she asks. "It's a miracle. My heart's been broken a thousand times. They say that music is a healer."
It's award time. Martina is honored as a Do-Right Diva for helping women impacted by domestic violence. She's raised more than $1 million for the YW Services to help women to leave unsafe situations.
Article continues below advertisement
Here's Melissa, who convincingly dresses up as her Reba co-star and begins to warble Kelly Clarkson's Because Of You – signaling it's time for the real thing.
Reba, who looks incredible, breaks out with Why Haven't I Heard From You and The Night The Lights Went Out In Georgia. She caps off her performance by duetting on Does He Love You with Martina. The house goes wild!
After hitting the coat check with CMT's super-fabulous Natasha Powell, we wait on the red carpet for her valet-parked car to swing through the circle. We're waiting a long time, and we're like 'agh!' we could frighteningly easily take a different ride the way this is rolling. We laugh when we see a passenger enter with a drink from the event.
On the way back to my hotel, Natasha point out Martina's amazing home. It's the size of several European castles put together! Talk about the house that country music built.