NEWS
Rebecca Black's Celebrity Entourage Includes Simon Cowell & Nicole Richie!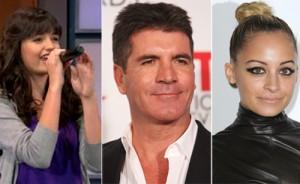 Rebecca Black has been receiving some major love from the Hollywood community. While many have been busy making parodies of her much-talked-about new single "Friday", the 13-year-old is keeping her head high and making TV interview rounds. And it really helps that she has music industry heavy-hitter Simon Cowell in her corner.
"Love it!" Simon Cowell told Entertainment Weekly of Rebecca's "Friday."
Article continues below advertisement
Simon may be known for his harsh-tongued critiques of musicians from his American Idol days, but the mogul certainly has respect for Rebecca.
OK! NEWS: WATCH REBECCA BLACK PERFORM FRIDAY ON THE TONIGHT SHOW WITH JAY LENO
"I've never seen anything cause so much controversy. I think it's genius. The fact that everyone's getting upset about it is hysterical. Any song to do with the weekend annoys you," he continued. "It reminds me of 'Saturday Night,' do you remember that 1994 song by Whigfield? It's what we call a 'hair-dryer song,' a song girls sing into their hair dryers as they're getting ready to go out. But the fact that it's making people so angry is brilliant."
Nicole Richie, daughter of music legend Lionel Richie, is also a huge fan of Rebecca, but she will not give up the "Friday" jokes.
"Rebecca Black is DOPE! I'm gonna support her music, her work, & her dream.... But still make Friday jokes" she Tweeted recently.
Are you following the celeb lead and supporting Rebecca? Share your thoughts in the comments!
Her YouTube video has almost 38 million views!