NEWS
Red Carpet Confidential: Alex McCord, Simon Van Kempen Defy Reality Divorce Rate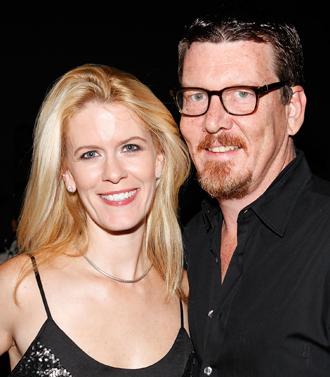 No amount of money would be great enough for former "Real Housewives of NYC" star Simon Van Kempen to call it quits with wife Alex McCord.
"Have we announced our divorce yet, or no?" he yuks during the Disney Store's Top 10 Toy event held this week in NYC. "Pay me $18 million and guess what? I still wouldn't get divorced."
But when it comes to Kim Kardashian's divorce filing just 72 days after one of the most expensive weddings of all time, the couple can relate to the pressure of shooting a reality special.
Article continues below advertisement
"Simon and I wonder if you're not on TV and you're not shooting a reality show, maybe you have second thoughts," Alex, 38, tells me. "A lot of people get cold feet. I wonder if either of them had cold feet, and felt they had to go through with it. "
She continues, "I'm sure the pressure must've been immense because let's not forget – they had so many people involved. It's sponsorship dollars. It's not just a wedding where you pay the caterer – it is a multimedia event where a brand is sponsoring your wedding. There are no cold feet in that situation, I think. Whether that's what it was or whether they just didn't know each other well enough, I don't know."
Is it possible that they faked their wedding?
"Certainly there are people – just like in real life – there are people who con you and try to pretend they're something they're not. People do that whether they're being filmed for a show or not. Maybe it was all a house of cards, and maybe it wasn't and they had the best of intentions and it just didn't work. I don't know. I don't know them."
Still, even reality TV couldn't break this couple, who wed in 2000.
MORE ON:
Red Carpet Confidential
Article continues below advertisement
"There are so many people within the 'Housewives' franchise that have divorced," Alex says. "I think that reality TV either makes you stronger or breaks you up. So far, we're one of the lucky ones. It takes work and constant communication. One of the things that is lucky for us is that we were both on our reality show to the same degree. It wasn't one of us telling the other 'oh God, what did you say? What did you do?' We were both in the hot seat. It's a shared experience. It's us and it's our family – everybody else is outside of that."
These days, Alex and Simon are adjusting to changes now that they are no longer part of the franchise.
Even though they're hamming it up with Mickey and Minnie Mouse at this holiday event, sons Francois, 8, and Johan, 6, are adapting to life without cameras.
"They definitely are relieved that mommy and daddy's time is not being taken all the time, and they're not being asked to do things they don't want to do when they don't want to do them," Alex says. "So I think that's very much a positive. They are 6 and 8 now, and they started doing the show when there were 1 and 3. But it's not all the time, every day, all year. It's just periods of time."
She adds, "I don't know that they really are judging the difference between doing a magazine shoot versus a Housewives shoot. We'll see. It's a moving target. Certainly we talk about it with our older son, but the most important thing is not any sort of TV show – it's our family unit."
Next up for the family: getting ready for a trade show for their textile company, Aluxe Home.