NEWS
Red Carpet Confidential: Alexis Bledel Grows Up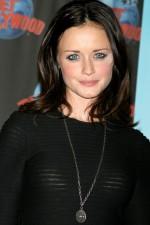 Alexis Bledel plays a college grad forced to move back with her family in the comedy Post Grad, which is in theaters now. I caught up with the former Gilmore Girls star and co-star Zach Gilford, both 27, during their Planet Hollywood memorabilia donation held in NYC.
Tucked away upstairs as world famous chicken crunch and beverages go round, Alexis settles into the booth side of the table along with her good friend Zach.
Article continues below advertisement
"I see you went to a Lutheran school," I begin, myself a pre-K through eighth grad of Redeemer Lutheran School. Bond alert!
"I went to a Baptist school, a Lutheran school, a Catholic school and we lived in a Jewish neighborhood," she remembers.
In the movie, Alexis plays a college grad who expects everything to be rosy now that she has the coveted degree. Like many grads – every grad? – she soon learns she can't control her own fate. How does Alexis react to the unexpected?
"I accept it, and move on," she tells me.
Here's a shot of Zach, myself and Alexis at Planet Hollywood. Time to dig into the world famous chicken crunch. Mmm - delish!
There's also a love interest in her best friend. Can men and women really be just friends?
The carefully measured actress says yes.
"There may not necessarily be an attraction. There's gotta be that spark. It's not always there."
Friendship turning to romance is definitely something she's experienced. She dated Milo Ventimiglia from 2002-2006.
Article continues below advertisement
"I'm usually friends with someone before I will date them," she admits with a laugh. "I like to get to know someone first. And then when I was younger, it's like you're friends with someone and whatever – you can't have a friendship anymore because somebody wants more. You can't leave them. You have to …"
Zach pipes up, "Fish or cut bait."
While her own future is bright, returning to college is always a possibility, and developing her own projects is on her to-do list.
"I would probably have to start taking classes, and discover a major through that," the Texas native says. "I really love to read, and I think it would be fun to develop a project from scratch. I would try that before I would try something in a completely different field."
Later on in the conversation, I ask about the best and worst things about fame. The actress puts her hand to her mouth, zipping her lips. A girl's gotta keep some thoughts to herself.