NEWS
Red Carpet Confidential: Ali Landry 'Grateful' Her Mario Lopez Marriage Ended Quickly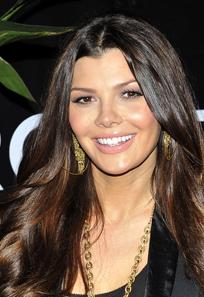 Even though "Hollywood Girls Night" star Ali Landry annulled her marriage to Mario Lopez after she discovered he cheated on her at his bachelor party just days before their 2004 wedding, she is not bitter.
What's her relationship like with the Extra host now?
"Oh, there is no relationship at all," the former Miss USA, 38, tells me Tuesday as her son Marcelo, four months, coos. "There's no friendship, there's no relationship, there was never an apology from him."
Article continues below advertisement
OK! RED CARPET CONFIDENTIAL: MARIO LOPEZ PARTIES WITHOUT FIANCEE COURTNEY MAZZA
Perhaps it's better that way considering she'll celebrate her six-year anniversary with hubby Alejandro Monteverde, who is also father of her daughter Estela, 4, in April.
"It's amazing," she says of life now. "I look at it, and it was one of the toughest things hands down that I've ever gone through, ever, and I don't wish it upon anyone, but I don't feel bitter at all. I'm actually so grateful that it happened because I would never be in the place I am now."
She continues, "I would have never been in the place to be open enough to find the man that I found. I don't think I would be the woman I am today or be doing the things that I'm currently doing if that incident would not have happened to me. For that, I will be — not that it's something good, and I won't wish it upon anyone — but I'm very grateful that I came through it in a wonderful, positive way. It affected my life in a really positive way in the end."
Article continues below advertisement
OK! GALLERY: MARIO LOPEZ RINGS IN HIS BIRTHDAY WITH COURTNEY MAZZA IN LAS VEGAS
Getting the strength to leave wasn't easy but necessary, and Ali found help through her Catholic faith.
"To be perfectly honest and totally frank with you, it was really hard because a lot of my friends and family wanted me to be angry. I never got angry. It was sad for me. It was like a death. I was with that person for a very long time, and I never saw it coming. It was very disappointing because I never looked at people that way, and I didn't know that someone could hurt someone else in that way. I didn't think people did that. You hear about it, but of course you never think it's going to happen to you."
MORE ON:
Red Carpet Confidential
OK! NEWS: MARIO LOPEZ & COURTNEY MAZZA WELCOME A BABY GIRL
Little Marcelo coos.
"For me, the only way I got through it was I'm Catholic, and I read the Bible every single day. It's the only way I had answers that made me feel at peace with what happened. I knew that instead of saying 'poor me,' I knew that I was really being protected from something. I knew I wasn't ever meant to be in that situation and I was being protected from a life of deception and hurt. I was not meant to be in that situation, and that's why I'm very grateful that I was yanked out of it."
Article continues below advertisement
Nowadays, Mario is engaged to Courtney Mazza, who is the mother of their 16-month-old daughter Gia. I saw him hosting at The Pool After Dark inside Harrah's Atlantic City this weekend, but she was nowhere to be found.
Is a cheater always a cheater?
"I really hope that people change," Ali says. "I don't know the answer to that, I just want to say that at the end of the day, I hope that people change."
Catch Ali on her new reality show, Hollywood Girls Night, which premieres on The TV Guide Network March 4 at 9 p.m. ET.