NEWS
Red Carpet Confidential: Ali Landry's Daughter Training For The Olympics?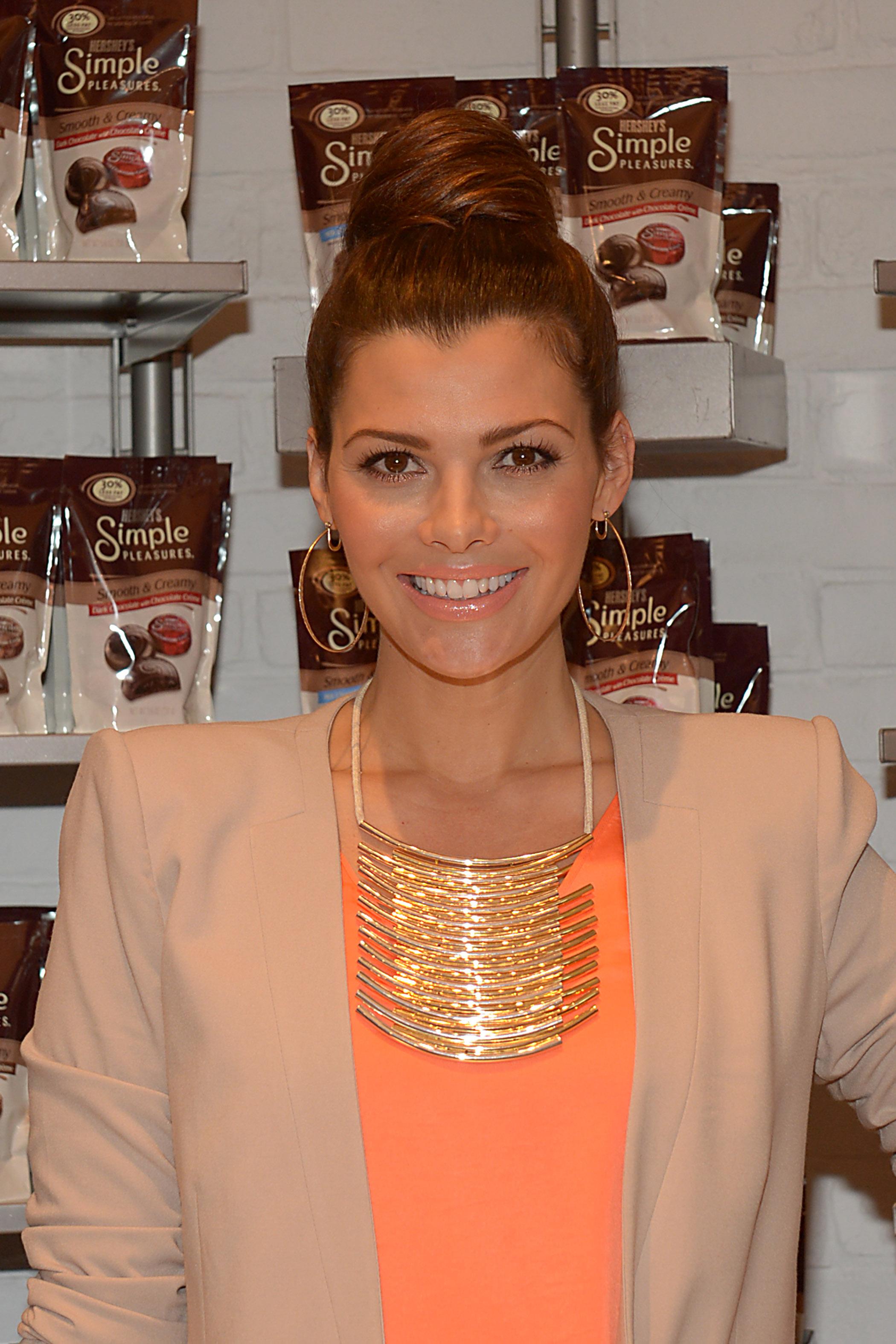 Not only does Ali Landry's six-year-old daughter Estela eagerly tune into the Olympics every evening, but she has also begun her own training regimen in three Olympic sports — ice skating, swimming and gymnastics!
"In honor of the Olympics, we enrolled her in different sports activities over the summer," the Hollywood Girls Night star tells me Wednesday during the Hershey's Simple Pleasures launch at Hershey's TImes Square in NYC. "She started ice skating, even though it's a winter sport. She's in her second session of swim classes. At first, she learned the survival technique, and now she's learning technique — all her strokes. She also took a round of gymnastics."
Article continues below advertisement
"He has eight teeth. He's starting to eat finger food — I make a lot of his foods, but now I'm able to cut up fruits and vegetables and slightly steam them. He eats them with his hands. He's a super-fast crawler. He's standing up and sort of letting go, so I think he will be walking very soon."
What's most important to Ali and her husband, Alejandro Monteverde, is giving their full attention to their little ones when they spend time together.
Article continues below advertisement
"My husband is incredible with the children," she says. "I mean, he's very busy — he's a director, and he's working on a film that's going to come out next year. When we spend time with the kids, I would say it's definitely quality time. There's no cell phones and no emails — it's family day every single Sunday, where we spend all day with the kids going to museums and parks and finding new activities in and around our city."
She continues, "My husband's very, very patient with my daughter, and really sits her down and explains things. He's a wonderful example as a man."
OK! BLOGS: RED CARPET CONFIDENTIAL: ALI LANDRY'S HOT BODY-AFTER-BABY SECRETS!
Could another baby be in their future?
"I would love to have more children," she says. "I come from a very large family — there are ten children on my dad's side, and eight on my mom's side. My favorite memory growing up is seeing my aunts and my uncles, and spending time with all of my cousins. Granted, we don't live by our family, so it's tougher for us — we're in the city, and we don't have a family support system, but we have created that support system around us of people we can really depend on."
Article continues below advertisement
She adds, "It's just a joy having a child in the house."
One way Ali is sharing her wisdom is through her web series, Around The Clock, which is available on Youtube. Fellow celebrity moms Kendra Wilkinson-Baskett, Camila Alves and Laila Ali also star.
"We talk about everything. We do one topic an episode, but throughout the season, we cover absolutely everything. Everything from red-carpet tricks — things we've learned along the way, to balancing work with family, and different things that I do with our children."
Pick up Hershey's Simple Pleasures, which are available in three flavors: milk chocolate, dark chocolate and vanilla. Get this - the new chocolates have 30% less fat than the leading milk chocolates. Ali *loves* them. Psst … I can't wait to try the vanilla.