NEWS
Red Carpet Confidential: Ali Landry's Hot Body-After-Baby Secrets!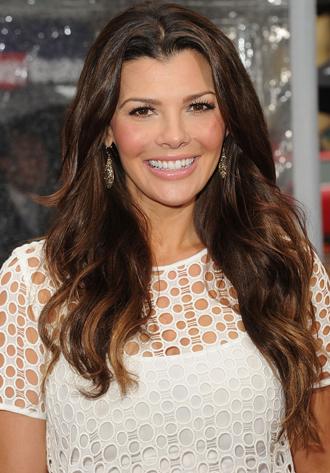 Even though she's nursing, Hollywood Girls Night star Ali Landry has to work to get her hot body back after baby.
The former Miss USA leaves her two kids, Estela, 4, and Marcelo, five months, at home when she hits the gym L.A. Rox with trainer Helene Guzman twice a week for hour-long core strengthening sessions — and that makes all the difference.
"I've seen the results fast," the married reality star, 38, tells me. "I used to have a gym at my house before I had kids, which now it's a playroom. I used a lot of workout videos. And now, I feel like I get way more bang for my buck — leaving the house for an hour, going to her, I feel like I'm getting three sessions. It's pretty intense."
Article continues below advertisement
OK! NEWS: RED CARPET CONFIDENTIAL: ALI LANDRY 'GRATEFUL' HER MARIO LOPEZ MARRIAGE ENDED QUICKLY
Using the Bosu ball, Ali works out her core, her arms, her legs and more.
"You're working a lot of different body parts at the same time, which for me is very, very, very effective. I've seen the fastest results and normally that's really great for me for toning and for maintenance."
Because she's trying to drop the remnants of her baby weight from the October 2011 birth of her son, she aims to hit the gym for 45-minute spin sessions twice a week to get the extra cardio.
And when she's really motivated, she'll throw in two extra cardio sessions.
"Right now, it's so busy, I'm getting in maybe once a week and my weight loss has sort of slowed a bit — but that's the goal. Getting there twice a week to add in that extra cardio to really get the weight down."
But if she has time to spare, Ali heads to the gym and it brightens her day.
"It changes everything for me," she says. "It's really true what they say about exercising releasing those happy endorphins because I'm much better for my family for my husband for my work — I just have a better attitude because I'm happy, because I'm giving something back to myself and I am a little hungrier when I workout but again that's something I have to make a conscious decision to make healthy choices."
Article continues below advertisement
She adds, "To see the results is incredible for me. I don't mind the process, I don't mind — I've learned probably the hard way there is no quick fix. There really isn't. Yes, you might do a crazy diet and you might lose 'X' amount of weight in very little time, but more than likely you're always going to gain that back. I did that myself several times over the course of my life but I've come to realize there's nothing like good ol' fashioned eating healthy and exercise — it's a lifestyle change. It's really what works for me and the results definitely come. You don't go from point 'A' to point 'B' overnight, but I enjoy the process as long as I feel like I'm really doing something for myself — I'm working towards that goal, and for me that's all I really need to stay motivated."
OK! NEWS: RED CARPET CONFIDENTIAL: HILARY DUFF TAKES A BABY BREAK
Her favorite exercise? A new twist on the good old-fashioned sit-up.
"I love doing this certain type of sit-up with these discs," she says. "You have to hold your hands on the discs or at the side of your body while you lay down and you twist them along the floor all the way to your feet. And I feel like it engages every single muscle in my stomach — there's no way I can cheat! Doing that specific exercise makes me feel strong."
Watch Hollywood Girls Night Sundays at 9 p.m. ET on TV Guide Network. And, pick up the Reality Weekly on newsstands now for more on Ali's diet secrets. The cover line is: "Snooki's Dangerous Pregnancy."