NEWS
Red Carpet Confidential: Alicia Keys Dishes on Her Son Egypt's "Impressive" Rhythm and Baby Number 2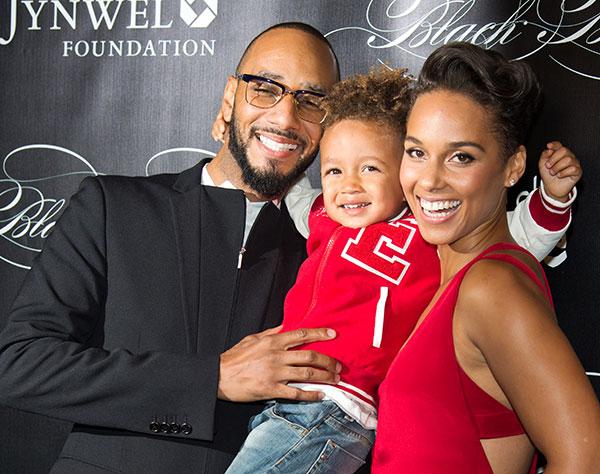 Alicia Keys and Swizz Beatz's (real name: Kasseem Dean) three-year old son Egypt steals the spotlight Thursday during Keep A Child Alive's Tenth Annual Black Ball held at Hammerstein Ballroom in NYC.
The curly-topped cutie, dressed in a red "E" letterman jacket and matching sneakers with his name on them, toddles up and down the carpet waiting for his parents.
Photos: 11 Couples Like Alicia and Swizz Who Have Made Music Together
Article continues below advertisement
And get this—he's holding a smartphone!
"I'm not sure if it's his first red carpet, but it's definitely his first black carpet," Alicia says.
Of course, walking carpets isn't the only thing the little guy can do.
"He's amazing," she says. "He swims by himself already. He does everything—he's so independent. He's extremely smart. I asked him to count in tens 50 to 100, and he can do it."
Plus, he's musically talented, just like his Grammy-award winning parents.
"He plays piano, he plays drums—his rhythm? Kind of impressive!"
Would Egypt like a little brother or sister?
"I bet he does," she says.
Will he get one?
OK! News: Which Pop Singer Is Getting Her Own Broadway Musical?
"Yeah! Just not right now."
They can take their time, considering Alicia, 33, thinks the world of music producer hubby Swizz, 35, whom she married in 2010.
"He's very unique and thoughtful, and he always introduces me to new things, which I think is the thing that makes us compatible together," she tells me. "He's always showing me a new incredible artist, or a beautiful place to go, or another way to think about how to approach something."
Sounds like a great match!
Photos: The Best Dressed Celebs of the Week
Keep A Child Alive's Black Ball raises millions for children and families living with and affected by HIV in Africa and India. Do you think Alicia is a good mom? What do you think of her and Swizz as a couple? Tweet us @OKMagazine.