NEWS
Red Carpet Confidential: Alyson Hannigan Teaches Daughter About Birds and The Bees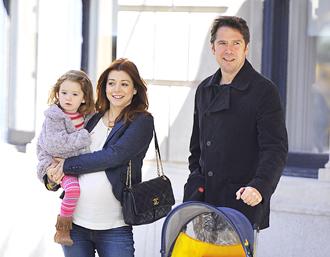 Now that Alyson Hannigan is expecting her second child in June, the American Reunion star is getting daughter Satyana, 3, ready for the new arrival.
One thing that's come up? How that baby got there in the first place. Luckily, hubby Alex Densiof, whom she wed in 2003, stepped up to the rescue.
"It was right before bed," the actress, 38, tells me while promoting Pull-Ups Potty Dance. "I was saying goodnight and her dad was reading books and cuddling, so she said 'mommy, how did the baby get in your belly?' And I said, 'uhh, ask daddy.' So I left it to him. And luckily, she had asked 'why is the baby in your belly?,' so she rephrased the question. He answered it beautifully about her becoming a big sister, so thankfully she saved us from actually having to get down to having that conversation."
Article continues below advertisement
OK! GALLERY: ALYSON HANNIGAN & HUSBAND ALEXIS DENISOF ENJOY A FAMILY DAY OUT WITH DAUGHTER SATYANA
For Satyana, getting ready for the baby is filled with mommy-and-me moments.
"She is so excited," she says. "She is going to be such a phenomenal big sister and I can tell, she is so excited. She talks to my belly all the time and tells the baby she loves it. She rubs lotion on my belly and she gives, like, half a thing of body butter each time. I'm like, 'I think it's pretty well-moisturized, we're good!' She loves that."
Alyson continues, "She will go to a store and she will pick things out for the baby. She suggests 'let's go to the store and buy the baby a teddy bear.' But it's fine and very sweet. I was in the bookstore the other day and there was a little baby boy crawling around the floor, and she was just watching him the whole time – she's interested in babies. Now it's different because you can tell she's really excited about being a big sister."
Article continues below advertisement
One thing she hopes to keep secret? The baby's sex.
"We know, but we haven't said anything yet. Sati has been telling everybody, but it's still kept to ourselves. But she'll tell the valet parker - she's just so excited. We're trying to keep it a secret, but it's probably not going to be a secret for very long."
OK! GALLERY: AMERICAN PIE CAST REUNITES FOR AMERICAN REUNION HOLLYWOOD PREMIERE
For Alyson and her hubby, devising a name for the little one has been a challenge.
"We definitely need to invest in a name book because that's just so hard," she says. "I always hope it's just going to come to me in a dream, but so far no."
Of course, Satyana has a few ideas.
"If Sati could have her way, it would be Coco because she has a friend Coco in our parent-toddler class. I'm hoping maybe she's channeling Coco Chanel, but it's probably Coco from the class. Then if it's a boy she wanted Gadezzi because it sounded like jacuzzi, so I don't think she's going to have a real say in the name, but I feel like if we get it down to two we like, we can see which one she likes better."
Alyson continues, "She's helping design the nursery. She gets to tell us what fabrics she likes. We're definitely including her in the process, but Gadezzi is just too far. laughs"
Catch Alyson in American Reunion, which is in theaters now.