NEWS
Red Carpet Confidential: 'Bachelor' Ben Flajnik and Courtney Robertson Are Not Rushing to Marry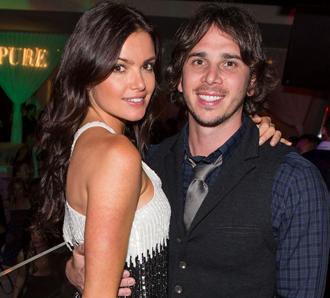 Bachelor Ben Flajnik and Courtney Robertson hit Las Vegas this week, but they weren't multi-tasking by trying to cram in a wedding.
"My dad texted me and was like, 'You better not be getting married in Vegas!,''" she tells me at Pure Nightclub inside Caesars Palace. "And I was like, 'Oh no, no.'"
Ben seconds, "We love Vegas, but we are not getting married here."
For the controversial couple, life has changed since the March 12 finale of The Bachelor.
Article continues below advertisement
"We have not discussed children," Ben says. "We have talked about a lot, but our first step is moving in together."
Courtney adds, "After a year of being together, then we will be able to see where we want to go."
Ben says, "We are both smart people, and we realized that we rushed into this thing, so we are going to take our time."
Without cameras, they still manage to keep life exciting.
"We take lots of trips," Ben says. "We have been traveling a lot. Last week we were on the Northeast. We went to Atlanta, visiting Constantine from my season, and Lucas who just got engaged."
Article continues below advertisement
Courtney adds, "We went from New York to Connecticut to Boston. Having a lot of fun — and we went to a Red Sox game."
What was the highlight of their stay in Vegas?
"We went to the Wet Republic pool party today," Ben says.
"It was crazy," Courtney says.
Ben adds, "I never been to a pool party here, it was unreal. We brought our friends with us so we all had a good time."
Inside the club, Ben and Courtney kiss and hold hands. Just another night!
What a busy time! Ben and Courtney also dined with five friends at Social House inside Crystals at CityCenter, where they noshed on yellow tail jalapeno, rock shrimp tempura, mini Kobe sliders, and an assortment of sushi and sashimi. Mmm! Pick up the Reality Weekly on newsstands now for more on Ben and Courtney. The cover line is "Khloe Defends Her Marriage."