NEWS
Red Carpet Confidential: 'Bachelorette' Ashley Hebert Learns About Babies From Her Dog, Boo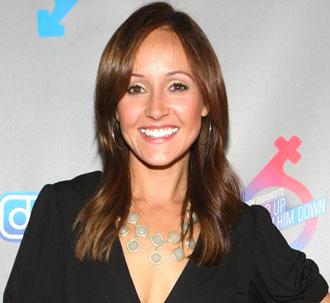 Bachelorette star Ashley Hebert and fiancé J.P. Rosenbaum have found common ground in caring for dog Boo.
Not only do they love taking Boo for walks in the park, but they also enjoy cuddle time.
OK! BLOGS: RED CARPET CONFIDENTIAL: 'BACHELORETTE' ASHLEY HEBERT SHOWS OFF HER REALITY STAR SISTER!
Having a dog gives them an idea of what it might be like to have a child.
"It definitely shows you responsibility," she says. "How you have to put other people first, and schedule your day to get everything accomplished, both for you and your pet, or a significant other or a child."
Article continues below advertisement
For the couple who got engaged last August on The Bachelorette, real babies can wait.
"We want to get grounded and settled before we have a baby," she says, noting that kids are a few years away. "We're doing things differently. We're taking our time."
OK! BLOGS: RED CARPET CONFIDENTIAL: 'BACHLEORETTE' ASHLEY HEBERT, J.P. ROSENBAUM TO ELOPE?
When the moment is right, it could be "one and done."
"I think less is more," she says. "I'd probably want to have one! We'll probably end up having two, but who knows? But things could change."
Why two kids?
"Probably so they can keep each other company," she says. "I think it's important for children to be surrounded by other kids their own age, and not just adults. That's probably the best way to raise a kid."
Ashley can't get enough of Apothic White Wine. "The white wine is light, lively, vivacious, sweet and it also has a hint of vanilla to it," she says. "That's definitely like me."