NEWS
Red Carpet Confidential: 'Bachelorette' Ashley Hebert Calls Fiancé J.P. Rosenbaum "Jealous"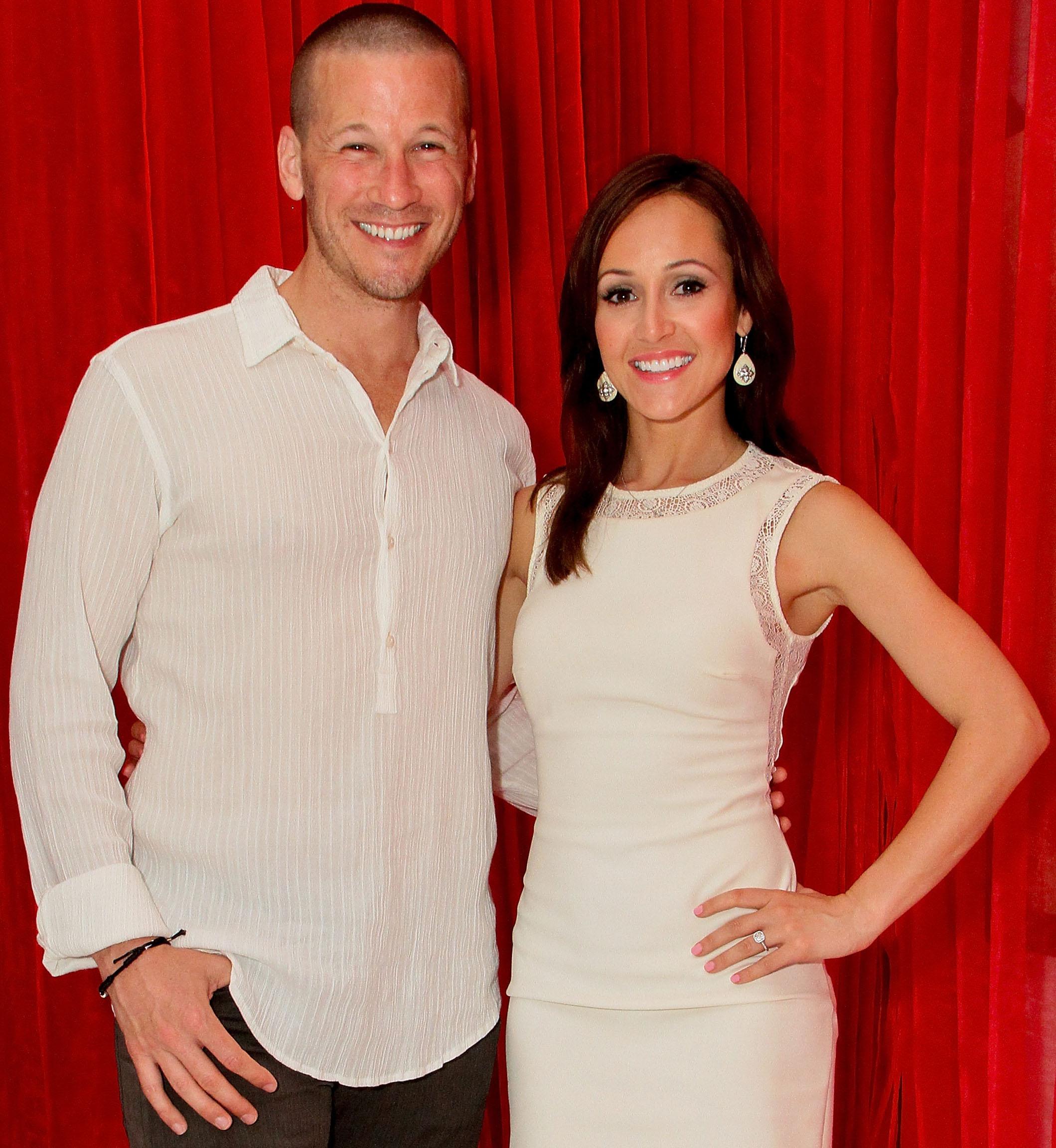 Ashley Hebert and J.P. Rosenbaum are breaking all the rules.
The couple, who got engaged on the Bachelorette in August 2011, find their roles reversed when it comes to staying in shape. Among most couples, the woman watches her portion size and hits the gym to fight flab while the guy feels free to chow down, get seconds and lounge out in the comfy chair as he pleases.
But not Ashley and J.P.
"J.P. is a healthier eater than I am," she tells me. "I mean, he is STRICT about his diet. Sometimes we don't even eat the same meals because he wants a piece of raw chicken or something. He wants one piece of meat the size of his hand, and two pieces of asparagus. He's very good about being strict about his diet."
Article continues below advertisement
In fact, she says, "I think he's a little jealous that I don't have to workout as much and I can stay kind of thin. Him, I know he feels like he has to workout to stay really thin, but I think he looks great."
OK! GALLERY: NEWLY ENGAGED BACHELORETTE STARS EMILY MAYNARD AND JEF HOLM CELEBRATE HIS BIRTHDAY IN NYC
The reason Ashley lets it slide? Her weight hasn't changed since middle school!
While others fluctuate 5-10 pounds in any given week, the Bachelorette star counts herself among the lucky few who have remained the same.
"I've probably been the same weight since I was in seventh grade," she says with a laugh. "I just listen to my body. When I'm hungry, I eat. When I'm not hungry, I don't eat. I'm not very gluttonous. I don't go out and have every kind of dessert with my meal. I just listen to my body."
Lucky for her, she has never had the need to crash diet.
"There are sometimes when I tell myself that I have to eat less sweets, because the sugar highs and lows — that's probably the only thing I've told myself I have to change in terms of a diet."
Article continues below advertisement
She continues, "When I eat less sweets, it changes my energy level. When I consume foods like raw vegetables, I have more energy, but when I consume foods high in sugar, it is up and down, up and down in terms of my energy level."
OK! GALLERY: FORMER BACHELORETTE ALI FEDOTOWSKY DINES WITH A HUNKY NEW GUY IN L.A.
For Ashley, worry is not an issue when it comes to the number on the scale.
"I think it's less to do with gaining weight than it is with feeling strong and fit."
One way she feels strong and fit is by getting down with dumbbells.
"It's important to lift weights. It's not just about cardio. Lifting weights, you burn a lot of calories that way. I'm all about lifting weights — just don't hurt your back."
OK! GALLERY: ASHLEY HEBERT AND J.P. ROSENBAUM BOND WITH JANE FONDA AT 'SHAPE' ANNIVERSARY BASH
Hm, how does she do it without looking too masculine?
"You want to avoid being too bulky and lifting a lot of weight, so I try to find a healthy balance between a low weight, high rep, and a heavy weight, low rep. I like to be right in the middle, because I do like a little bit of definition and muscle mass, but not too much."
Article continues below advertisement
What poundage?
"It depends what workout I'm doing, and what kind of shape I'm in. At my peak, I was lifting a lot more weight than I would right now."
OK! GALLERY: J.P. ROSENBAUM IS ALL SMILES WHILE RUNNING ERRANDS IN NYC
She strives to hit the gym 1-2 times per week.
"I think the biggest thing is just being able to incorporate it into your routine and to actually keep up with it. That's the biggest secret."
In the food department, Ashley's breakfasts vary between egg and cheese on a bagel and yogurt with granola or fruit. For lunch, she enjoys a salad with chicken, and dinners can vary.
What's her fave dish?
"I love Thai food, so I love curry dishes with vegetables and rice laughs. I also love a good hearty salad with almonds and chicken and fruit – I love any type of balsamic vinaigrette, honey mustard — yeah!"
Article continues below advertisement
When it comes to snacks, she is keeps it healthy.
"I'm a fruit person, so I love cutting up an orange, cutting up an apple — but don't get me wrong, I love a good piece of chocolate."
How does she stop from going overboard on chocolate?
"I like to keep those little bite-sized chocolates at my apartment so you just have one and that fulfills the craving. How do I stop myself? I think it's probably more of a mental thing — like 'OK, you don't need that. You don't need that much sugar.' But I think it's important to indulge at some point. Chocolate is my number one. I do love cupcakes, too. I'm really not a huge dessert person."
When the mood strikes, she loves to crack open a bottle of Apothic wine.
"Their white wine is light, lively, vivacious, sweet and it also has a hint of vanilla to it. There's something about consuming alcohol that makes you a little more relaxed — popping a cork. Probably everything I do in my life I do in moderation, so I wouldn't say I'm a frequent drinker, but when I need to relax 1-2 nights a week, I have a glass of wine and just chill out."
Article continues below advertisement
OK! GALLERY: BACHELORETTE ASHLEY HEBERT SHOWS OFF HER MAN J.P. ROSENBAUM IN NYC
Ashley must be doing something right considering her weight has not fluctuated.
What does J.P. think of her bod?
"He loves it. laughs I like to think he loves it, anyway."
Her top diet tip is simple to follow.
"Just listen to your body, eat, and when you're not hungry, don't eat. I know that doesn't work for everyone, but I think probably everything in moderation is the best diet tip I can give."
Pick up the OK! on newsstands now for more on Ashley Hebert and J.P. Rosenbaum. The cover line is "Teen Mom: Nastiest Fights Ever!"