NEWS
Red Carpet Confidential: 'Bachelorette' Ashley Hebert, J.P. Rosenbaum to Elope?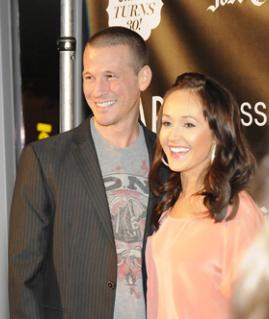 Wedding planning may be too much for Bachelorette stars Ashley Hebert and fiancé J.P. Rosenbaum. Although Trista and Ryan Sutter televised their wedding, the most recent pair, who got engaged in August, may do away with the frills.
"I think the earliest will be next fall, but we might change it up," Ashley tells me of her wedding timeframe Wednesday at Shape's 30th anniversary event at the IAC Building in NYC. "We might do things a little different."
Article continues below advertisement
J.P.'s curiosity spikes, and he asks, "Want to share? What do you have in mind?"
OK! GALLERY: ASHLEY HEBERT & J.P. ROSENBAUM BOND WITH JANE FONDA AT SHAPE ANNIVERSARY BASH
"How about eloping?" Ashley suggests. "That would be cool, babe."
J.P. says, "No, my mom would not be happy about that."
Kidding aside, Ashley tells me she's having a tough time nailing down time to plot her nuptials.
"I'm still finishing school," she says. "I'm almost done, but January 1 — okay, maybe January 2 — I'll start wedding planning. There's a lot that goes into it. We'll take the whole year and plan it. We'll see."
She continues, "The reason I'm doing it is because I'm finishing up school, and I want to take some time and just breathe. January's like a new year and a new beginning, so why not start? I have all these ideas, and I want to give myself enough time."
One source of inspiration is TV's biggest reality star.
"I think after watching Kim Kardashian's wedding, I'm like 'wait, I want that, I want that, I want that.' I'm thinking about the dress and looking at things I like. I'm slowly but surely starting to compile my ideas, but I haven't really picked out anything. We're having fun."
Article continues below advertisement
Unlike Kim, though, a camera crew and all the amenities may not be part of the deal.
"We don't know," Ashley says. "We have no idea. I know, everybody's waiting, and we have no answers."
But everything else is slowing coming together.
"Definitely not tropical," she says of the wedding location. "I used to think I wanted something outdoors or in a field somewhere, but now I think I want a New York City wedding. I want it to be chic and fashionable."
As for the wedding singer?
Ideally, it would be Eva Cassidy.
"The first song that she ever played and said 'you have to listen to this, I absolutely love this song' was a remake, 'Fields of Gold,' by Eva Cassidy," J.P. says.
Ashley says, "We slow-dance in our apartment to it. It's our song."
Regardless of what happens, they'll be pleased as long as their families attend.