NEWS
Red Carpet Confidential: 'Bachelorette' Ashley Hebert Shows Off Reality-Star Sister!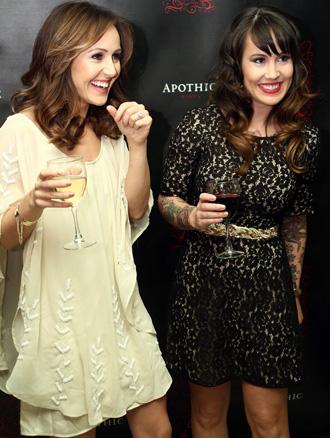 Bachelorette star Ashley Hebert brought her sidekick to the Apothic Wines launch held Tuesday at Woody in NYC.
No, not fiancé J.P. Rosenbaum, who showed up later in the evening. It was her sister, Chrystie Corns, of TLC's Extreme Couponing fame!
After the girls got manicures and pedicures and shopped at Lord & Taylor to find the perfect dresses, they hit the Big Apple hot spot for the Apothic Wines event.
Article continues below advertisement
Clearly, Ashley is proud of her big sister's wheeling-and-dealing ways.
"My sister went on a $600 shopping spree and only spent $2.87, using multiple coupons," she tells me. "Extreme Couponing is a show where people use multiple coupons and couponing techniques to get the best deal. My sister's been doing it for quite some time now. It started off as a hobby. She's a single mom, so she was trying to save money. It turned into something she became really good at as far as saving a lot of money."
OK! BLOGS: RED CARPET CONFIDENTIAL: JAKE PAVELKA'S ADVICE FOR BACHELOR BEN
Growing up, Chrystie never respected a deal like she does now.
"My sister would never be caught dead using a coupon when I knew her! But she's a single mom. You have to figure out a way to save money like we alll do, so she started couponing. She used to tell me she would never date someone who used a coupon," Ashley says with a laugh.
Article continues below advertisement
According to Ashley, Chrystie was the "cool one."
"We definitely were not competitive," she says. "I was seven years younger than her, so I always wanted to be like her; I always looked up to her. Whenever she came home from college, I would always be waiting by the door to see what she's wearing. I was the typical young girl."
Hmm, what has Ashley learned from her big sis?
"She hasn't gotten me into couponing yet," she laughs. "My sister's taught me that sometimes I just need to be myself because I see a lot of myself in her, and I realize it's just genetic. It's who we are."
One thing's for sure: Although Ashley and J.P. aren't talking wedding details just yet, Chrystie will be standing proud in the wedding party.
"She definitely will be; she's my sister!" Ashley says. "Oh, god, my family loves J.P."
"I think my family loves J.P. more than they love me," she adds with a laugh.
In fact, they get along so well that they all retreated to Ashley and J.P.'s NYC apartment for the rest of the evening after the event.
Pick up the Reality Weekly on newsstands this week for more on Ashley. The cover line is "Bachelor Baby Surprises."