NEWS
Red Carpet Confidential: Brooklyn Decker Breaks A Sweat During Reebok Spartan Race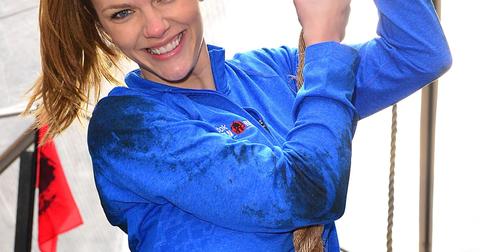 Jan. 18 2013, Published 12:31 p.m. ET
View all comments
When Brooklyn Decker takes part in the first-ever Reebok Spartan Race in NYC's Times Square Thursday, she faces tough obstacles.
Not only does the model/actress, 25, complete the seven-foot wall climb, but she also slides through a mud roll (with barbed wire!), traverse wall, monkey bars, a ten-foot high Hercules Hoist, a rope climb, 75-foot sandbag carry, tire toss, hurdle wall jump, under wall crawl and tunnel crawl.
Article continues below advertisement
"I'm not as focused on how I look when working out as much as how I feel," she says.
Of course, she is lucky to have a workout buddy in her retired tennis pro hubby Andy Roddick, whom she married in 2009.
Still, it isn't a fair game.
"I'm very competitive, and with my husband being a professional athlete, I'm often guaranteed to lose," she says.
She continues, "We do work out together, but we try to do teamwork-oriented activities like kayaking or rock climbing."