NEWS
Red Carpet Confidential: Carrie Ann Inaba Says 'Dancing With the Stars' Made Her Feel 'Empty'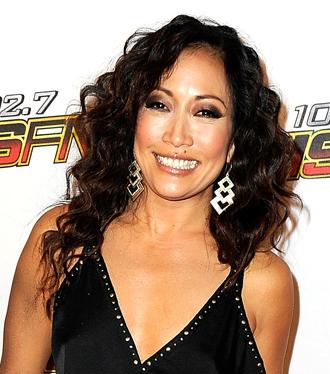 Judging Dancing With the Stars isn't as fulfilling as one might think. Just ask Carrie Ann Inaba!
The reality star, 44, owns six cats — Taz, Zeus, Mia, Miley, Bubble and Squeaker — and a dog named Cookie. For tonight's 14th season premiere, she'll wear a glamorous gown, be decked out in full hair and makeup, and be surrounded by star company as cameras capture her every move when she passes judgment on stars competing on the show.
Article continues below advertisement
But as soon as she gets home, she'll cuddle up with her fiancé Jesse Sloane, and their fur family, who will dine on their bed. "My pets have changed my life in countless ways," she tells me. "I guess the biggest way is they just teach you how to be loving and accepting, no matter what, because that's how they are. Animals are so sweet — they're all rescues, all my cats, and they know they're rescued. The way they show their gratitude, by always being there — they're just the most amazing thing in my life."
OK! NEWS: RED CARPET CONFIDENTIAL: CARRIE ANN INABA SOUNDS OFF ON DANCING WITH THE STARS CONTESTANTS
Despite her busy schedule, Carrie Ann has made it her mission to save homeless pets through her brand-new Petsami YouTube show Crib Cat, which matches people to rescue cats. She serves as executive producer.
"The rescuing has brought so much happiness to me," she says. "Dancing With the Stars, being on that show, has been wonderful. I cannot express my gratitude enough. But it sort of felt empty. I kept saying 'I'm on the show, I have this amazing platform, but what am I supposed to do?' My friends were telling me, 'You're already doing it, you're on the show.' I'm like 'That's not the goal. I feel like Dancing With The Stars is a stepping stone to something else.' All my friends looked at me like I was crazy."
Article continues below advertisement
Devoting her free time to finding homes for precious pets is just what she needed. "Now, everyday, I spend two hours with networking letters. People send out these letters, emails, and they network animals that are in shelters that need homes. That's where this idea came from, because I thought 'If I can network them to a larger audience, that's what I want to do. And if we can make it video instead of just pictures, that's even better.' So I've been doing that every day, and it's made my life feel like there's meaning."
She continues, "Now I understand why I have the job on Dancing With the Stars. Now that platform has meaning to me, and I'm able to utilize it for something that does a greater good. I know it sounds corny, but it's true. It makes me feel so much better. I'm so much happier now."
OK! NEWS: RED CARPET CONFIDENTIAL: JAKE PAVELKA MAKES CHIPPENDALES DEBUT WITH SUPPORT FROM GIRLFRIEND ASHLEY VICKERS
What can we expect from her latest project? "Petsami is a network on Youtube," she explains. "It's a Youtube channel devoted to people who are passionate about their pets, like myself, but it's done from the perspective of pets, so each show is hosted by a pet. My show is called Crib Cat. What we're doing is we have a Crib Cat, and she's our host. She's going to be match-making pets who are in no-kill shelters, to people."
Article continues below advertisement
She continues, "Basically, we'll profile a cat. We'll tell the audience all about the cat — whether they have special needs or what their backstory is, if we know it. What would be the perfect match for them, so that people who are watching can say 'I would be the perfect match.'
Unlike other scary last-chance pet sites, Crib Cat's goal is to entertain — and make a match. "It's done in a fun way. We've partnered with Vin Di Bona Productions, which is the creator of America's Funniest Home Videos. We'll be intercutting with footage that they have from the past. It's meant to be in a light, fun, entertaining way, but our goal is to get these cats some homes. A lot of them just need exposure.
Because I'm on Dancing With The Stars, and we have some viewers, I want to utilized that to help spread the word about them."
Watch Carrie Ann on Dancing With the Stars, which returns tonight at 8 p.m. ET on ABC.
And, check out Crib Cat, on YouTube's Petsami Channel.
Plus, pick up the OK! on newsstands now for more on Carrie Ann. The cover line is: "Finally … Mrs. Brad Pitt!"