NEWS
Red Carpet Confidential: Celebrity Apprentice's Tia Carrere: Beauty Has "Zero" Impact On Business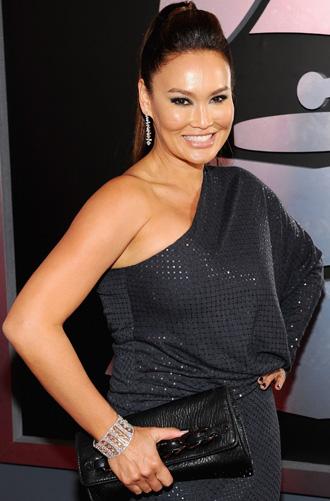 Even though being beautiful surely provides an advantage in the business world, Tia Carrere attests that she didn't experience it while competing on Celebrity Apprentice with bombshells like Dayana Mendoza, Patricia Velazquez and Cheryl Tiegs.
"I think my looks play zero," the single mom, 45, who shot to fame in 1992's Wayne's World, tells me. "It gives me no edge here. There are a lot of beautiful women. When you look at everybody that's on the panel, we've all had careers for a number of years, and that creates a very specific skill set."
Article continues below advertisement
She continues, "You have to be clever, you have to have gut instinct, you have to know how to handle people, and any different situation you're dropped into. I'm very concerned there are a lot of long-time performers here that I have great respect for. I think we all are very clever, smart people. It's going to be tough to choose a winner."
OK! NEWS: DONALD TRUMP FIRES TWO CELEBS ON CELEBRITY APPRENTICE
Being on the show was a feat three years in the making, and she had to cancel commitments in Hawaii and Australia in order to take part in the competition just days before it kicked off.
Who's her biggest competition?
"I'm not worried about any particular competitor, I'm more concerned with just maintaining stamina, maintaining my wits about me and maintaining my integrity as I go forward into this unknown wilderness. We're going to be working from 5 a.m. - 11 p.m. six days a week for about a month. The race is long, and it's only with yourself."
OK!'S RED CAPRET CONFIDENTIAL: CHERYL TIEGS MORE INTERESTING AFTER CELEBRITY APPRENTICE EXPERIENCE?
In the OK! on newsstands now, Tia gives her Diet Confessions.
What's her top diet tip?
"If you think you're hungry, drink water because you might be thirsty instead," she says. "Try to eat live food because there's more nutrition, and don't make yourself feel bad."
Pick up the OK! on newsstands now for Tia's Diet Confessions interview. The cover line is "Kim's Secret Adoption." And catch her on Celebrity Apprentice, which airs Sundays at 9 p.m. ET on NBC.