NEWS
Red Carpet Confidential: Christina Milian Contemplates Baby #2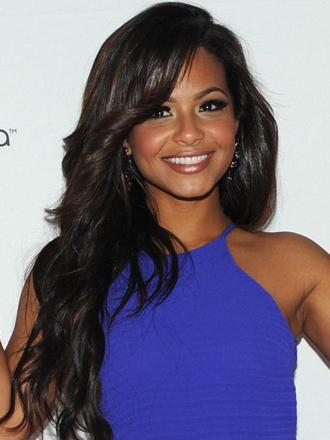 Now that Christina Milian's daughter Violet is three-years-old, she is seriously considering expanding her family.
But first, she needs a man after divorcing Violet's father, Terius "The Dream" Nash, in 2011.
"I want somebody that can be a great father to my daughter," The Voice's social media correspondent, 31, tells me this week during Orgullosa's "Skirts Only" fashion show in NYC. "I'm testing out the waters by dating."
Article continues below advertisement
OK! GALLERY: CHRISTINA MILIAN SHOWS OFF ROCKING BOD ON THE BEACH WITH DAUGHTER VIOLET
Lil' Violet has been such a good girl that Christina would love to have more mini-mes.
"Hopefully they all turn out just like her," she says with a cackle. "I love the miracle of growing a child. That's one thing that has been so incredible to me—it's unbelievable. And knowing that you're helping raise a human being, and growing their minds into what they can be someday. You never know what they can become."
She continues, "It makes me happy to have my child already. I want to have more—we'll see if I can handle it. laughs I know it's different after one. laughs"
OK! GALLERY: SEE PHOTOS OF CHRISTINA MILIAN, CEELO GREEN, TONY LUCCA, MARIO LOPEZ, KHLOE KARDASHIAN, DEMI LOVATO, CARRIE UNDERWOOD, KELLIE PICKLER AND MORE IN THE VALERIE GALLERY
One thing Violet does is take after her mother.
"She already is a party animal—I can tell," she confesses. "She loves to dance. Anytime she hears music, she's like 'come on, Mom, dance. Let's go!' She makes it a big deal for me to have to get up and dance, and for anyone who's around, she loves to sing out her name. There are so many things I'm seeing in her that are so similar to how I was. When the camera's on, she lights up, but she's like that consistently, even without the camera."
Article continues below advertisement
She continues, "She's also goofy. She likes to make jokes and do stuff that will surprise you."
OK! GALLERY: CHRISTINA MILIAN JOINS REAL HOUSEWIVES AT KYLE RICHARDS' STORE OPENING
Hm, like what?
"You know what she told me the other day on the phone? I'm like 'hey, Violet, what are you doing?' She's like 'hi mom,' and she's telling me she's with her grandma, and then she's like 'OK, you're boring. Bye!' I'm boring? I was laughing, though. I don't know where she learned it. A little too much time with grandma! cackles"
Catch Christina tonight when The Voice premieres at 8 p.m. ET on NBC. Procter & Gamble's Orgullosa program—an initiative created to celebrate, empower, and fuel Latinas' dreams—hosted its "skirts only" fashion show in NYC to celebrate how the Latina community is made of "mujeres con la falda bien puesta" (women who have their skirts placed well).
Will you watch The Voice now that Shakira and Usher have replaced Christina Aguilera and CeeLo Green? Tweet us @okmagazine.