NEWS
Red Carpet Confidential: Ciara Says 'No' to Cleanses, 'Yes' to a Tight Tush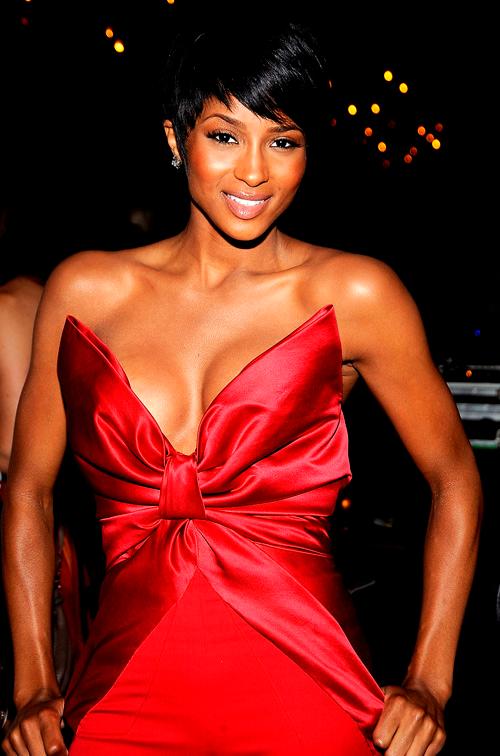 Being hot in Hollywood requires stars to workout regularly and watch what they eat. For Ciara, it means focusing on certain exercises and cleaning up her diet – but not submitting to fast fixes like cleanses.
"I attempted to do this cayenne pepper thing one time," the Grammy-winning MTV Video Music Award nominee, 23, tells me. "I could not get past the idea of drinking what that stuff looked like. I attempted to, but I was like, 'I just cannot do it' because I love food too much. It would be so hard to take away physically eating food. Drinking a liquid would not work for me."
Article continues below advertisement
Instead, she takes to the gym armed with a playlist including the Black Eyed Peas number Boom Boom Pow in addition to tracks from Lady Gaga and Flo Rida.
"When I work out, I love to do my squats and my lunges because it's all about the tush," the Goodies singer, who will open for Britney Spears next month, says. "I need to get that sitting up pretty nicely. Lunges and squats are my favorite."
What's her strategy?
"When I'm really, really focused, I'll train five or six days a week for one hour," she tells me. "I do light weight training."
But Ciara does not rely on gym time alone.
"It's all about what you eat," she says. "I change my eating schedule by getting rid of bad carbs and replacing them with complex carbs, like brown rice and wheat toast, wheat pasta noodles. I'll come down on my sauces. I make sure it's more protein-driven. Like grilled chicken, steak and fish. I also like to do greens to get fiber -- broccoli, string beans, salad and lettuce, to help cleanse your body. My diet basically consists of protein, greens, and complex carbs. I focus on trying to eat more clean. I do five or six meals when I'm eating healthy. And I drink tons of water."
Article continues below advertisement
How does she deal with the pressure to be thin?
"I do what works for me. I decided that I have a certain goal I want to reach for. If anything, I create that pressure for myself. I try not to let other people affect the way that I look. Sometimes people will say 'wow, she's too muscular. She's too this.' I have to say, 'wait a minute. Forget how everybody else feels. How do I feel?' That's always important for me to make sure that I'm happy with what I'm doing."
Fitting into that glam gown gets Ciara motivated.
"When I'm preparing for an event, sometimes I have to wear samples from the designers," she says. "I make sure I'm conscious of my eating before that day comes, because I want to be able to fit in that dress, you know what I mean?"
Listen for Ciara's new single, Work, featuring Missy Elliott.