NEWS
Red Carpet Confidential: Diane Kruger, Joshua Jackson Love it Up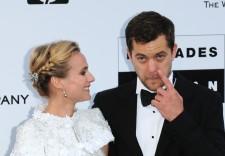 Even as Diane Kruger's movie Inglourious Basterds celebrates its opening weekend, it's just another Sunday for the 33-year-old actress and her boyfriend Joshua Jackson.
"We have coffee before everything, and then slowly ease through as much of the crossword as we can get through, and see where the day takes us," Josh, 31, tells me of their Sunday routine.
Of course, Diane indulges in her beauty secret on the weekends. "Sleep!"
Article continues below advertisement
The power couple, who moved to Vancouver this year, make an effort to visit each other while they're working. When Josh hit the Inglourious Basterds set, he was in for a surprise.
"They were right in the middle of shooting some incredibly intensely gory scene when I showed up," Josh remembers.
Diane says, "I've never played anyone quite as fierce and impossibly glamorous -- yet tough as nails."
What's the best thing about Josh?
MORE ON:
Red Carpet Confidential
"Aw," the German actress coos. "Everything. He's the best."
Hm, one thing?
"His style! It looks good."
What's the best thing about their relationship?
"It's just easy, right?" she says. "You don't feel awkward things or you ask yourself questions of 'what am I going to next week?' It just flows and I think that's the good thing."
And isn't Diane lucky.
"I'd say romantic things are done with her rather than for her," he says. "But the most romantic trip we've ever taken – just at the beginning of our dating, she'd never been to Tuscany. I shot a film in Tuscany, so I took her to Tuscany. That was pretty good. That was pretty high up there on the list."
What's the secret to a happy relationship?
"Lots of poets have spilled lots of ink, but so far as it occurs to me, if you're willing to put in the time and the work, everything else comes naturally," Josh says.
Inglourious Basterds is in theaters now.