NEWS
Red Carpet Confidential: Diddy Compares Himself to Anna Wintour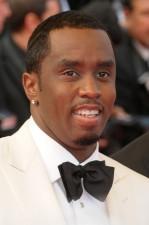 In a room that includes Renee Zellweger and Sienna Miller, Diddy is drawn to legendary Vogue editor Anna Wintour. It's only natural -- they're both Scorpios born twenty years apart.
"We're both crazy in a positive way," the entrepreneur, 39, says during an event for her September Issue documentary. "She's like a godmother to me. She doesn't know that, but I've adopted her as a godmother to me in fashion because she's the one who first took me to the shows in Paris, she's the one whose always treated me like a designer when she reviewed my collections and told me the truth about what was right and what was wrong."
Article continues below advertisement
He continues, "She's one of the most ambitious, most talented, most driven people I've ever met. She deserves everything she gets. She's one of the most influential people the fashion industry has ever had."
What does the man born Sean Combs think of Britney Spears saying she'd like him to be her vice president on The Late Show With David Letterman last week?
"I would gladly accept," he says.
How is the father of four getting ready for fall?
"I'll be shopping," he says. "I just want to shop all over the place. I want to go into different stores, especially in New York. The industry in New York employs so many people, and they're so important."
Here comes Cassie, whose shocking new shaved 'do is certainly striking.
"Everyone loves it," she says.
What does she love most about Diddy?
"He's very passionate," she says. "He's a passionate person about certain things."
Here's a pic of Diddy and I: