NEWS
Red Carpet Confidential: Elisabeth Hasselbeck Eliminates Mom Guilt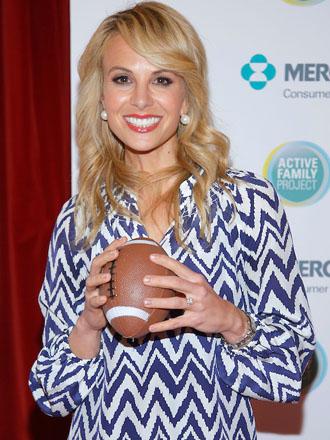 Elisabeth Hasselbeck has found the solution to coping with the guilt that mothers feel when they choose to leave their kids behind to exercise.
She does it with her family, which includes former NFL quarterback-turned-ESPN analyst hubby Tim, 34, and kids Grace, 8, Taylor, 5, and Isaiah, 3.
"I get more out of running around the yard with the kids than I do on a run by myself," The View co-host, 35, tells me this week during Merck Consumer Care's Active Family Project launch held at Gramercy Park Hotel in NYC. "There's no guilt! I like to run, but I spend the first 20 minutes of it feeling guilty."
Article continues below advertisement
She continues, "We're exhausted by the end of it, in the best way."
OK! GALLERY: SEE PHOTOS OF ELISABETH HASSELBECK, KELLY RIPA, GIULIANA RANCIC, HEIDI KLUM, TYRA BANKS AND MORE IN THE VALERIE GALLERY
Playing together is part of the Hasselbeck family creed, and they will celebrate the first annual National Family Playdate today by having fun together.
"The Active Family Project has been our family's motto for years. It's natural to us, since Grace was born, she's 8, we've always been a family that's active together. I don't think our kids know any other way."
She adds, "It's been fantastic in terms of teaching them, whether winning or losing, that there's a good way to do it, a way that shows sportsmanship. Occasionally they get sad, but I think learning from your family is ultimately a great way to do it."
OK! GALLERY: OH-SO-SWEET MOMENTS BETWEEN CELEBRITY PARENTS AND THEIR ADORABLE KIDS
In fact, being active together is such a family tradition that it's part of their routine.
Article continues below advertisement
"We do this either Sunset Wiffle Ball, or Bedtime For Basketball, where there's incentive for the kids to do well, like they get to stay up later if they make their shots against mom and dad," she says. "I think that time together is so valuable."
Of course, playing games with little ones has its drama.
"I have a three-year-old—he's going to cry when he doesn't get the ball," she says. "I have a five-year-old, who has a little brother, and he wants to be competitive. Ultimately there are highs and lows within it, but if we're all together, we can govern it, or let it go, as we see fit."
OK! GALLERY: LINDSAY LOHAN, DONALD TRUMP, AND TEN OTHER CELEBRITIES ENDORSING MITT ROMNEY FOR PRESIDENT
Elisabeth wants parents to know that making the commitment to be active doesn't require tons of time.
"I think there's also the misconception that you have to plan a five-hour block of family playtime together," she says. "That's overwhelming, like 'eh, how am I going to do that?' or that you need a ton of energy, and be ready, and have the perfect snacks to go and have this family playdate together. No. It doesn't have to be perfect; it just has to happen. The perfection comes in the time together being active, and in the actual commitment of being with one another, you can find those perfect moments."
Article continues below advertisement
She continues, "It can be as simple as 'OK, I'm going to draw things with chalk on the driveway, and you're going to race to them,' or 'I'm going to throw the ball up in the air, and you're going to run to it and dive and catch it,' or 'we're going to do relay races in the backyard,' or balloon toss. Whatever it is, being active together is a great bonding experience."
Just in time for Mother's Day, today is National Playdate Day, which includes making the commitment to get in the habit of scheduling family time to play.
"We always talk about how being active and being physical is so valuable, and being with your parents is something that has its value," she says. "We schedule everything else. I don't know that everyone could look at their calendar and see 'family backyard playtime' or 'family playground playtime.' I don't know that that's something we physically put on our days. If we can have it now, maybe it just becomes what we do."
Article continues below advertisement
Hm, anything else?
"The Active Family Project encourages families to do that, and gives you tips on how. It's great for parents. Family playtime? Tell me what to do! You can go in there, punch in your zip code, see activities that are going on around town, or maybe connect with a mom who has a new game that she's been doing with her kids."
Elisabeth supports the Active Family Project, which is a campaign with Merck Consumer Care designed to help moms take back family playtime and start living a healthier and more active lifestyle. Wanna get involved and win play-themed prizes including a trip to Florida? Visit the Active Family Project Facebook page.
What's your fondest memory of playing with your family? What celebrity family seems like they have the most fun together? Tweet us @okmagazine.