NEWS
Red Carpet Confidential: Emile Hirsch Says Kristen Stewart is No Pushover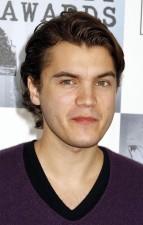 Emile Hirsch stays cool with Into The Wild co-star Kristen Stewart. He jump-started her career by recommending her to Twilight director Catherine Hardwicke.
"I was gushing about her," he says. "I think she's so talented and so perfect."
He continues, "She's a great conversationalist, very inquisitive. She's got a little bit of an edge, too, though, so she's not a pushover. She's strong and cool. She's beautiful, she's smart, and she's emotional, too."
Article continues below advertisement
The 24-year-old actor, who appears in the musical comedy Taking Woodstock, in theaters now, didn't have to stretch beyond his comfort zone to play a hippie in the Ang Lee-directed flick.
"I grew up in Santa Fe, New Mexico, and Los Angeles," he tells me. "I spent a couple years living in Topanga Canyon, which is pretty hippied out for L.A. It's a hippie community. It's people from the '70s. People dress like hippies, there's nature everywhere, people dance, people sing, people smoke a s***load of pot."
What's his favorite thing about hippie culture?
"The sense of adventure that hippies have is pretty cool," he says. "It's the sense that you don't need a lot to have a good time. You don't need a lot of money in order to have a good weekend. You can hang out with your friends and listen to some music. I like the resourcefulness of that, and I think we could definitely use having that a lot more. We live in an age today of instant gratification, where if you don't have this, this and this, you can't have a good time or you're not allowed to have a good time. With the hippies, it was much easier to have a good time. I related to the good vibes and the idea of simple living and being happy."
Article continues below advertisement
What would he miss most if he went back to the '70s?
"Probably my phone with my e-mail and my texting," he confesses. "The phone has become like a fishing hook. We're the fish. We're caught on the hook. We can't shake ourselves off it with the texting and the emailing and the photos. It's addictive. It can't be good for you. It's gonna end up blowing everyone's I.Q. points eventually."
What was his nude scene like?
"The technology almost came back to bite me because I would repeatedly see people with their iPhones out. There would be a crowd of 200 people, and I'd be like 'oh my God, are they taking photos of me naked? This is wacked.'"
Pick up the OK! on newsstands now for the latest on Kristen and Rob Pattinson. The cover line is "Angie Tells Brad: Sleep on the Couch!" And, check out Taking Woodstock in theaters now.